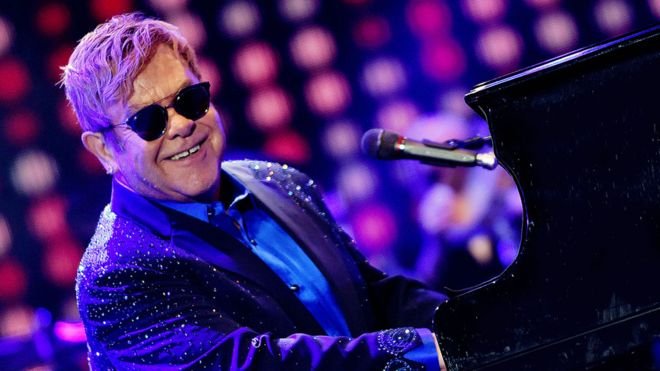 Sir Elton John has announced he will stop touring in order to prioritise his family.
Speaking in New York, the star said he would say goodbye to fans with a series of 300 dates spanning three years.
"I always thought I was going to be like Ray Charles, BB King – on the road forever," he said.
"My priorities have changed. We had children and it changed our lives. That doesn't mean to say I'm not going to be creative. But I'm not going to travel."
The star denied reports in the press that he was retiring due to ill health.
"Last year I picked up an infection and I was very ill and it knocked me sideways," he admitted. But I still did 96 shows.
"Believe me – if you ever do 300 shows, you're not in ill health."
'Bang not a whimper'
Sir Elton's Farewell Yellow Brick Road will kick off in the US this September, just months after he ends his six-month residency in Las Vegas.
"I don't want to go out with a whimper, but a big bang," he said, promising "the most fantastic show I've ever done".
After his tour, he added that he might consider another residency – "like Kate Bush," who played 22 dates at London's Hammersmith Apollo in 2014.
The star added he had come to the decision to spend more time at home with his husband, David Furnish.
"David and I sat down with a school schedule and I said, 'I don't want to miss too much of this.'
"I'm not stopping music. I'll hopefully be making more records. I'll be writing more musicals. But mostly, I'll be taking my kid to soccer academy – which is the most important thing.
"Life is all about change."
Sir Elton said he would be "creative up til the day I die" and that his farewell tour would be "a wonderful way to thank people".
His two sons – who will be eight and 10 when the tour ends – will join him for parts of the tour, being taught by a tutor.
"I don't want to miss them and I don't want them to miss me," he said.
Sir Elton has sold more than 300 million records over his career and is one of the world's most in-demand live performers.
Last year, he was forced to cancel nine shows in Las Vegas and California because of a bacterial infection he contracted during a South American tour.
Sir Elton's management said the "potentially deadly" infection forced him to spend two nights in intensive care in April and to cancel concerts in the US.
It was not the first time ill health had stopped the star from stepping on stage.
In 1999, he was fitted with a pacemaker when doctors found an irregular heartbeat, while in 2013 the star cancelled a headline slot at London's Hyde Park after being diagnosed with appendicitis.
Grammys duet
However he played almost 100 shows during 2017, including dates in Europe and Australia, as well as his demanding Las Vegas show, The Million Dollar Piano.
And, while he has taken the decision to reduce his workload, Sir Elton is still juggling several major projects.
The star is due to perform a duet with Miley Cyrus at Sunday's Grammy Awards and will host a special concert in his honour at Madison Square Garden on Tuesday. Guest stars will include Sam Smith, Chris Martin, Kesha, John Legend and Keith Urban.
He is currently working on a Broadway musical based on The Devil Wears Prada, as well as the live action version of Disney's The Lion King and the animation Sherlock Gnomes, via by his own production company.
Asked about his all-time favourite gig, the star said: "The night John Lennon came on stage with me in Madison Square Garden."
The show, on Thanksgiving 1974, was Lennon's last ever major concert appearance. Sir Elton played piano while the former Beatle sang Whatever Gets You Thru the Night, Lucy In The Sky With Diamonds and I Saw Her Standing There.
"I get goosebumps about it," said Sir Elton.
Source: BBC