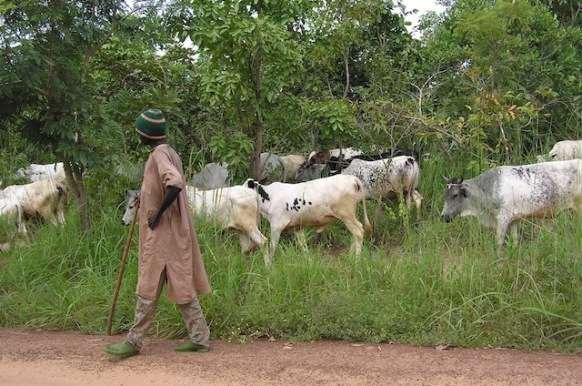 A fulani herdsman identified as Papa Gona has been shot dead by four assailants believed to be fulani herders at Abokpa,an Island community in the Hliadzi Electoral area in the Affram Plains South District of the Eastern region.
The deceased was shot in his two thighs by his assailants in the bush while grazing cattle. He bled profusely before he was located by a search party dispatched to the scene by the Assembly Member in the area but he died while being ferried across the Affram River to Hospital at Abetifi.
Starr News has gathered that, the assailants were identified by the deceased after he gave a vivid description to the rescue team before his death. Upon the tip off one of the suspects has been arrested by the Police.
The incident is believed to have been triggered by a similar attack on the deceased three months ago  after the deceased survived that gunshot attack by some fulani herders, he managed to identify two of them who were arrested by the police and are standing trial in Court.
The arrest of the two fulani herdsmen angered their colleagues who threatened to kill the deceased for being a torn in their flesh and allegedly leaking their plots to farmers and residents in the area.
Assembly Member for Hliaddzi Electoral Area,Gideon Tistsogbeh, who confirmed the incident to Starr News indicated that "some months ago,some fulani herdsmen shot this same man severally but he didn't die and it became an issue that went to court and they are still in court."
He explained further that, " Yesterday, I had a call that one guy who was following this Fulani ran to the house that this same man had been shot at…so I organized and we rushed to the bush, after a search we heard someone shouting so we traced the voice and located him."
He added "this area there is no car so we carried him to the river side and while being ferried across the river to hospital he died on the river."
The deceased was married with two children.
Meanwhile, the Affram Plains South District Police Commander DSP Ahmed Atalata has indicated that investigation is ongoing to arrest the other accomplices.
Source: Ghana/StarrFMonline.com/103.5FM/Kojo Ansah