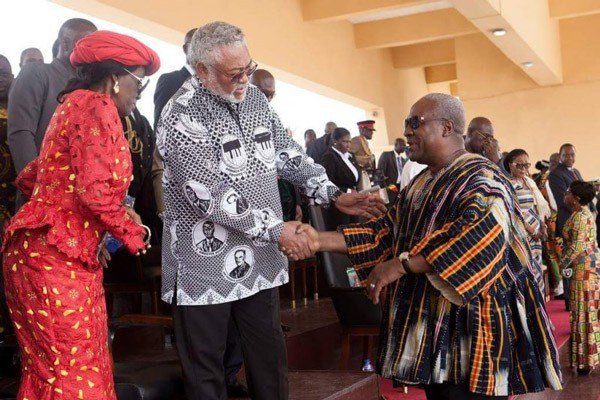 Former president J.J Rawlings has apologised to his colleague former leaders John Agyekum Kufuor and John Mahama over the use of "inappropriate" words against them.
Rawlings at a meeting with chiefs and elders from Mepe in the Volta Region last week used unpalatable words against the two former presidents.
Rawlings, who has been critical of the duo, described former President Kufuor as 'evil' and Mahama as a 'rogue' who destroyed the country.
He said: "I know with my integrity when I die, I will go to heaven but when I see these corrupt leaders, I will ask permission from God and flog them.
"If they don't leave heaven for me, I will go and leave the heavens and join Satan in hell because I cannot stay in the same place with them," Mr Rawlings stated.
Barely a week after spewing those comments, Mr. Rawlings has issued a statement to withdraw his choice of words.
"The office of former President Jerry John Rawlings wishes to inform the general public that the former President has taken due note of concerns raised over certain publications arising out of a meeting he held with a delegation of chiefs and elders from Mepe in the Volta Region last Tuesday," the office of the former president said in a statement.
It added: "The former President apologises to former Presidents John Agyekum Kufuor and John Dramani Mahama for the choice of words. He deems the words as inappropriate and withdraws them."
Source: Ghana/Starrfmonline.com/103.5FM