It's been a long and difficult road pursuing a dream career for the ambitious 19 year old orphan – Azara Zakaria who hails from Savelugu district in the Northern Region. Azara's first love was nursing and she was willing to do anything to be in the prestigious green and white uniform but lack of funding support, poor grades and her physical disability made this dream impossible to achieve.
She was born with a physiological defect that seriously hampered her mobility. She literally had to drag her buttocks on the floor to move her body about. It's painful past shared by a number of benefactors in the region whose financial contributions led to a successful surgery, ending that agonizing experience. She became better off after the operation, with her full body lifted off the ground standing but not without the help of crutches.
Young Azara has been restless since completing SHS, determined to go further and pursue a career at all cost. She joined the women with disabilities entrepreneurship mentoring program organized by the Starr Woman Project Dream Edition. Project Lead Eyram Basham recalls that Azara was very engaging in the entire exercises and will follow up with persistent reminders for opportunities in between workshops.
As part of its advocacy, women empowerment and social inclusion drive, Starr Woman Dream Edition Project funded by Starr Ghana has been aggressively scouting for skills training and entrepreneurship opportunities for its mentees including Azara in the pilot districts – mainly women with disabilities who own or are desirous of setting up their businesses.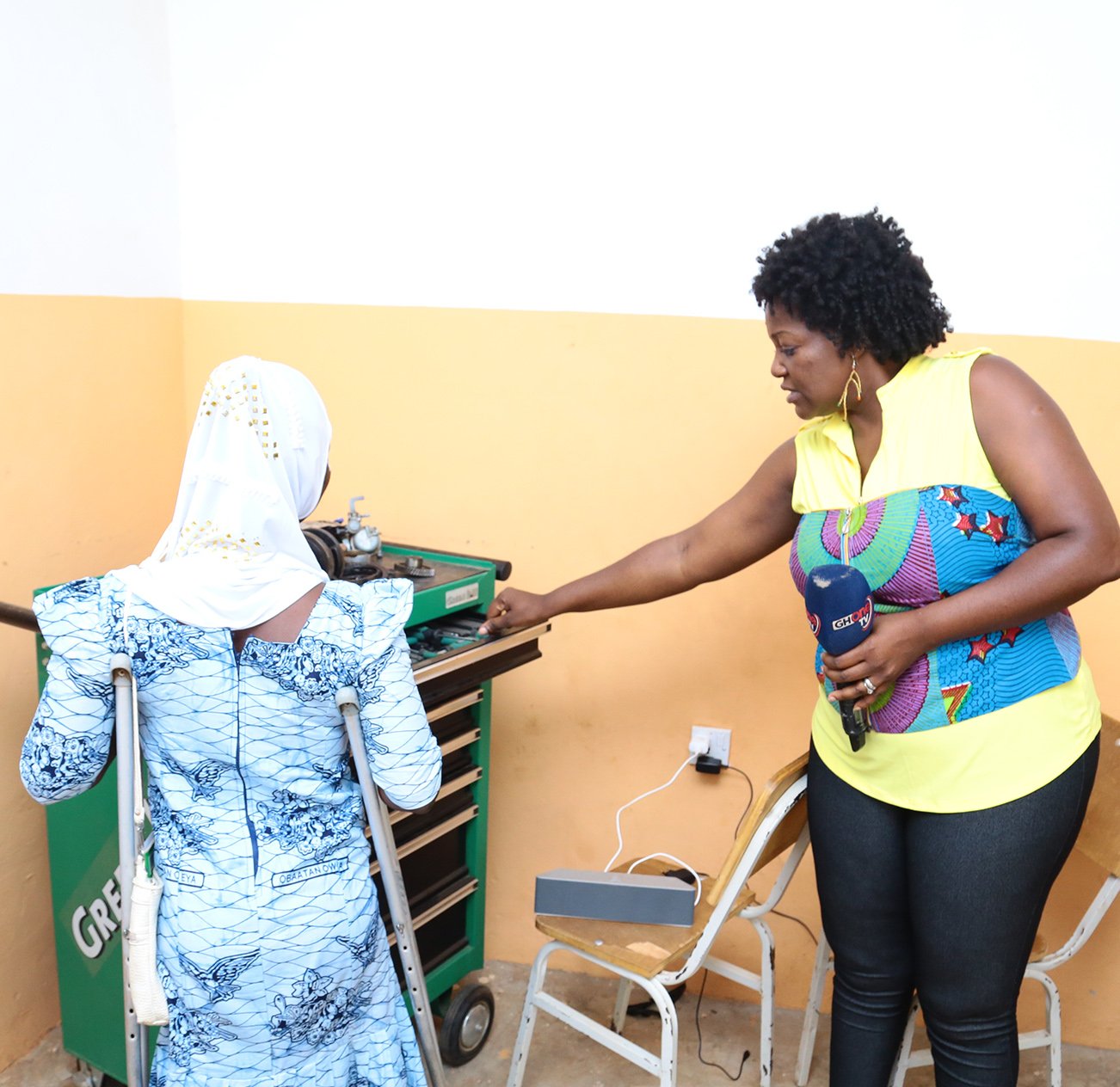 The project sourced for opportunity from a FEMSTECH project being supported by the German development wing – giz. This FEMSTECH module targets and trains young girls to become solar and motorcycle technicians. The project which is running in selected vocational training institutes in northern Ghana responded positively to Starr Woman Dream Edition's request and offered Azara a place at the St Mary's Vocational Training Institute in Tamale.
Mrs. Basham said when she first broke the good news to Azara, she was indifferent. Azara later intimated to her she was not too sure of her capacity to pull through the program.
"Seeing it as a male dominated career I was reluctant at first because I didn't think ladies could study or work as technicians let alone run garages, then I got here and my whole thinking changed. Seeing my colleague girls taking this program at ease boosted my confidence, indeed I believe it now that women can do what men do".
Azara made it to the school on Starr Woman's ticket initially to study and run her own solar workshop but once again had to change to motorcycle technician training because of her disability.
When the Starr Woman Project team made a follow up visit to the school, Azara's mates spoke highly of her tenacity to make it despite her physical disability.  They confessed that their perceptions of people living with disability has been greatly challenged by the sheer intelligence Azara displays in class and her affable nature gets everyone on her side.
She excelled in a recent class test to the admiration of her teachers and mates and flaunted her work to the Starr Woman Project team. The St. Mary's Vocational Training Institute's built environment is not disability friendly hence imposes some limitations on Azara. But there is light at the end of the tunnel! An ongoing inclusive education project spearheaded by Don Bosco, a non-governmental organization in the Northern Region is upgrading the Institute's infrastructure, curriculum and faculty to cater for students like Azara with special needs.
In a few months' time, Azara will pass out and with support will become Savelugu's first female motorcycle technician and operate her own garage.  Azara has embraced this male dominated world with so much confidence and optimism. The Savelugu Municipal Assembly together with the Municipal Chief Executive – Hajia Ayishetu Seidu is upbeat about Azara's bold entrepreneurship move and waiting eagerly to give her every support needed to get her established so she can mentor other young ladies in the community to raise more of her kind.
Source: Ghana/Starrfmonline.com/103.5FM