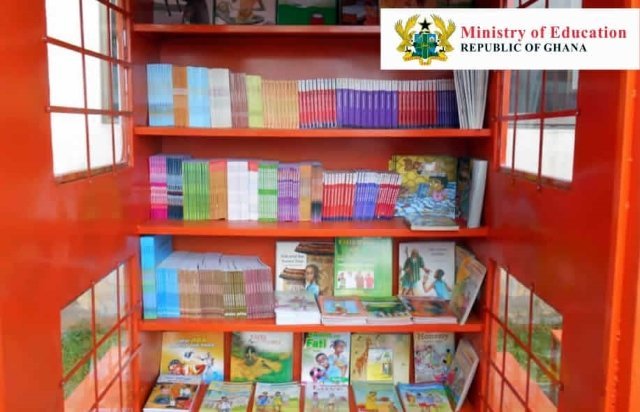 The Ghana Book Development Council (GBDC) has embarked on a campaign to improve reading in basic schools across the country.
Part of the campaign is the establishment of 'Book Booths' at basic schools to facilitate easy access to books by pupils.
The Book Booths will come along with the setting up of Reading Clubs at beneficiary basic schools.
The booths will be stocked with storybooks to supplement the existing library facilities.
The booths which have seating areas fixed permanently to the sides have been colourfully branded to attract the attention of the children to the books.
These booths are to be placed at vantage locations in schools, particularly close to playgrounds where the children can have easy access to the books at all times and to help them see reading as pleasure.
The project is funded by the GBDC from its internally generated funds.
GBDC
GBDC is an agency under the Ministry of Education mandated to oversee the development, regulation and effective planning of the Book Industry in Ghana.
One of its functions is to ensure the establishment of suitable machinery for the promotion of reading among all age groups, particularly among children.
To promote reading among school children and also promote indigenous books, the GBDC periodically organises Book Fairs and Reading Festivals as well as forms Reading and Creative-Writing Clubs at Basic and Senior High Schools.
The "learn to read; read to learn" campaign which has been initiated by the GBDC is to create and increase awareness of the numerous benefits of reading, particularly to children.
The aim of the campaign is to encourage children to learn to read and after they have learnt to read, to continue to read for life.
This will ultimately help to promote quality education, increase the quality of life and general well-being, eradicate ignorance, poverty and disease and help in realising the UN Sustainable Development Goals (SDGs).
As part of the campaign, the GBDC has put together a documentary of prominent personalities and role models who still make time to read for pleasure in spite of their busy schedules.
These prominent personalities and role models, who are people the children readily identify with, have been recorded reading aloud children's books, particularly by Ghanaian authors.
The documentary is for reading promotion purposes. The objective is to get children to develop a love for reading not only their core study materials but also storybooks to further expand their knowledge and vocabulary.
It is also to instil in them the knowledge that reading is not only for children but adults as well.
Reading is critical
The benefits of reading cannot be overemphasised.
It has long been acknowledged that it takes a consistent and sustained effort to develop a reading habit in a community. It is also trite knowledge that lifelong reading and learning is necessary for personal and national development.
Developing a reading habit also has a direct bearing on the eradication of ignorance, poverty and disease as well as increasing health and safety, access to work and information and overall productivity.
Research has established that increasing literacy levels has a positive correlation with the overall development of a nation.
In spite of the benefits of literacy and reading, many adults barely make time to read.
This habit is often emulated by their children who also make little time for reading, thus continuing the cycle of ignorance and its attendant effects.
Source: Ghana/Starrfmonline.com/103.5FM