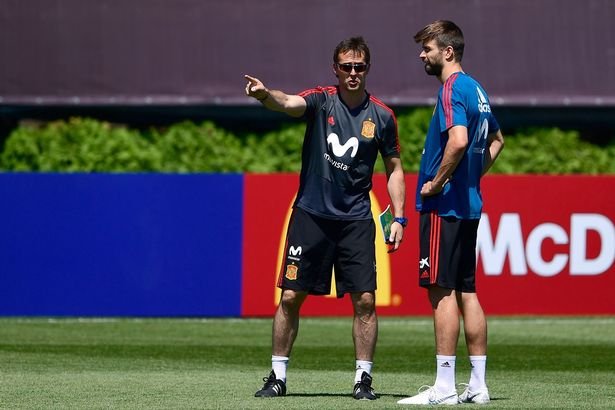 Julen Lopetegui has been removed as Spain manager a day after it emerged that he had agreed to take over at Real Madrid after the World Cup.
Lopetegui has signed a three-year deal to succeed Zinedine Zidane with the Champions League holders and it was decided that in the circumstances it was inappropriate for him to continue with Spain.
The Spanish Football Association president, Luis Rubiales, was supposed to be at Fifa's congress in Moscow on Wednesday but flew to Spain's training base late on Tuesday night to deal with the matter.
"We have been forced to dispense with the national coach. We wish him the greatest of luck," said Rubiales.
Asked who would be taking over, he added: "We are going to touch as little as possible. We are working on it. When we know we will tell you. "I have spoken with the players and I can guarantee they will do everything, along with the new coach, to take the team as far as possible. To win is very important, to have the best coach very important, but above everything is acting in the right way. Maybe this is tough now, but in the end it will make us stronger.
"I took a plane, came back from Moscow, missed the vote on the next World Cup to be here. We had to react, I know that whatever I do I will be criticised, I accept that."
Spain play their first Group B match against Portugal on Friday evening.
Source:Mirror
"The negotiations have occurred without any information to the Spanish FA and we were informed just five minutes before the press release. There's a way to act that needs to be fulfilled."