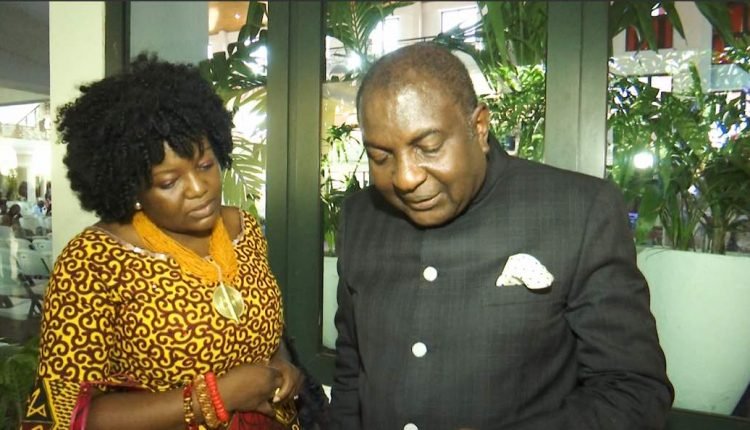 Starr Woman Dream Edition project has partnered the Charismatic Evangelistic Ministries to empower persons with disabilities and promote their rights.
The project dubbed, "A Day of Help", is an initiative of Charismatic Evangelistic Ministries (CEM) aimed at reaching out to persons with all forms of disabilities. The project seeks to bring millions of PWDs across the country to provide them with care which includes free medical care, toiletries, food items, mattresses, pillows, clothing, and other household items.
It is estimated that about five million persons with disabilities live in Ghana. But this group is considered to be the most sidelined set in the country. Most of them are neglected by the society and in some cases, their families.
Launching this year's 'Day of Help' at CEM, the Chief Director at the Ministry of Gender Children and Social protection, Kwesi Armoh Himpson admitted that government is overwhelmed with challenges confronting persons with disabilities.
"Government has a few programs which attend to persons with disability. We have our Livelihood Empowerment Program Against Poverty, because most of them are not wealthy and therefore the LEAP program places those with extreme disability with no productive capacity onto our cash grant facility.
"We also have the school feeding program in the very rural communities and some deprived urban areas. Recently what we notice, especially was with the visually impaired, is that when they go to the hospital communicating their ailment to the doctors was a problem, so we started training the nurses in sign language to adequately communicate with them," Mr. Himpson said.
Speaking at the launch, the Project Lead of the Starr Woman Dream Edition and Group Managing News Editor of EIB Netwotk, Eyram Bashan indicated the importance of the partnership and how it is aligned with the vision of Starr Woman Dream Edition project.
"Ours is a national advocacy drive to raise awareness about the systemic challenges that impede the economic empowerment of women entrepreneurs with disabilities, theirs provide social services to PWDs including our target women – together we are a stronger force pursuing the inclusion of this marginalized group. They have endured enough hardship, the Day of Help together with Starr Woman Dream Edition will work to alleviate their suffering in a sustainable manner. The state must rise up to its task of making every citizen including PWDs benefit from national resources and protection – it's inclusive development captured by SDG8. Starr Woman Dream Edition seeks to support Government agencies to do their part as enshrined in our statute books whiles caring citizens also extend their heart of love and empathy ," she said.
"A Day of Help" project pioneered and led by Rev. Steve Mensah, General Overseer of CEM is doing so well in providing care and a host of other resources to help these persons with disabilities. It has received a major boost with government's recognition of its impact, leading to the appointment of the vision bearer – Rev Steve Mensah, as a National Advocate of PWDs and has being offered him the UN platform to share his compelling story with the global community.
This year's Day of Help will be marked at the Independence Square as always in August and organizers hope to reach over 40,000 persons living with disabilities. With this partnership, Starr Woman Dream Edition will extend its media advocacy work to the successful organization of the Day of Help project. Rev Steve expressed so much gratitude for the media partnership raining blessings on the EIB Network for its dedication to the noble cause. He called on more benevolent organizations to get on board to reduce the cost of running the huge outreach. The project estimates to spend not less than 2million Ghana cedis for this year's outreach. Rev Mensah also implored government to increase its support for the project to enable them reach more beneficiaries.
The Starr Woman Dream Edition is a two and half year advocacy drive seeking to rectify the profound challenges faced by women entrepreneurs with disabilities and to promote their participation in the economic spheres of the country.
The project since its implementation few months ago, has made tremendous impact in the lives of women with disabilities in the Northern part of the country. Through the project's facilitation working with the local assemblies and other partners, many have received their share of the District Assemblies Common Fund allocation for PWDs – a huge boost to their business. They have also benefitted from various forms of empowerment and entrepreneurship training sessions organized by the Project. Others have received Vocational training scholarship among others. Some have also received assistive devices to support their physiological needs.
The project is funded by Star Ghana.
Source: Ghana/Starrfmonline.com/103.5FM