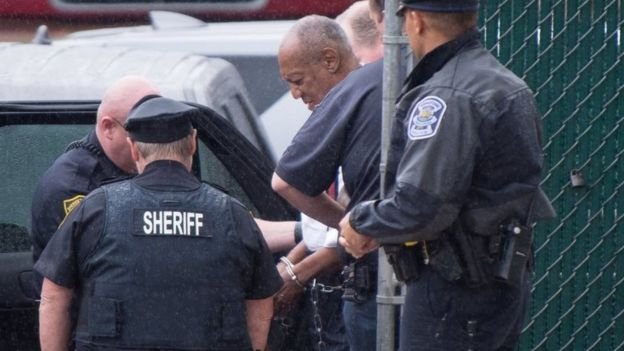 A judge in Pennsylvania has jailed US comedian Bill Cosby for three to 10 years for sexual assault.
Cosby, 81, was also categorised as a sexually violent predator, meaning he must undergo counselling for life and be listed on the sex offender registry.
The actor declined to make a statement when offered the opportunity.
At a retrial in April, Cosby was found guilty of three counts of sexual assault for drugging and molesting Andrea Constand in 2004.
Cosby's request for bail pending appeal was denied. He was also fined $25,000 (£19,000) plus the prosecution costs.
After the sentencing, he was led away in handcuffs from the courtroom. He was then driven to Montgomery County Correctional Facility.
Cosby's attorney had asked for his sentence to be restricted to house arrest, saying he was too frail for prison.
The actor had been under house arrest since April.
The comedian became a household name in 1980s America when he starred in the Cosby Show TV sitcom, playing the father in a well-to-do African-American family living in Brooklyn, New York.
Such was his popularity that he was dubbed "America's Dad".
"This was a serious crime," Judge Steven O'Neill was quoted as saying by CNN after pronouncing the sentence in the Montgomery County Courthouse in Norristown.
"Mr Cosby, this has all circled back to you. The day has come, the time has come."
What was Ms Constand's testimony?
In June 2017, the former Temple University basketball administrator described how Cosby, whom she had viewed as a "mentor", had given her pills that left her "frozen" and unable to stop his assault.
In her impact statement, as carried by the National Post, she said: "To truly understand the impact that the sexual assault has had on my life, you have to understand the person that I was before it happened."
"I was at the top of my game, certain that the groundwork provided by my education and athletic training would stand me in good stead whatever challenges lay ahead…" she said.
"After the assault, I wasn't sure what had actually happened but the pain spoke volumes. The shame was overwhelming. Self-doubt and confusion kept me from turning to my family or friends as I normally did. I felt completely alone, unable to trust anyone, including myself."
Source: BBC