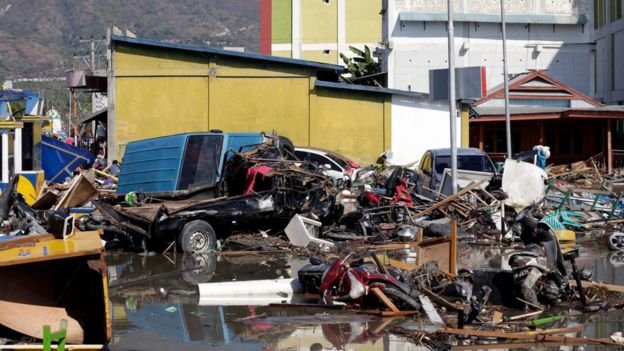 At least 832 people were killed in the devastating earthquake and tsunami that hit the Indonesian island of Sulawesi, the national disaster agency says.
It added that the affected area was bigger than initially thought.
Many people were reported trapped in the rubble of buildings that collapsed in Friday's 7.5-magnitude earthquake, agency spokesman Sutopo Purwo Nugroho told a news conference.
The quake triggered tsunami waves as high as 6m (20ft), he added.
Rescuers have been digging by hand in the frantic search for survivors in the city of Palu.
"What we now desperately need is heavy machinery to clear the rubble. I have my staff on the ground, but it's impossible just to rely on their strength alone to clear this," Muhammad Syaugi, head of the national search-and-rescue agency, told AFP news agency.
There have also been concerns about the town of Donggala, where the impact is still unclear.
The Red Cross estimates that more than 1.6 million people have been affected by the earthquake and tsunami which it described as a tragedy that "could get much worse".
Indonesia's Vice-President Jusuf Kalla said the final death toll could be in the thousands.
Strong aftershocks have continued to hit the island since Friday's earthquake.
President Joko Widodo is in Palu and is viewing sites affected by the disaster, including Talise Beach – the main tourist area that was badly affected by the tsunami.
What is the situation in Palu?
Many remain missing in the city of 335,000, some thought to be trapped in the debris of collapsed buildings.
Rescue teams dug by hand to free 24 people trapped in the rubble of the Roa-Roa hotel in the city of Palu, but there are fears more survivors remain trapped.
Bodies have been lying in city streets and the injured are being treated in tents because of damage to hospitals.
Anxious survivors in Palu bedded down in the open air on Saturday night, heeding advice by officials not to return to their homes as a precaution.
"It feels very tense," Risa Kusuma, who was with her feverish baby boy at an evacuation centre, told AFP.
"Every minute an ambulance brings in bodies. Clean water is scarce. The minimarkets are looted everywhere."
Source: BBC