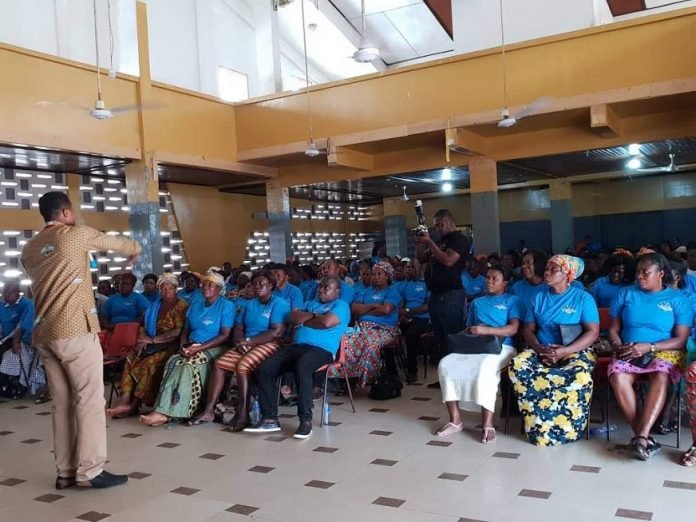 About 300 Voltic local franchise, Cool Pac distributors, retailers and customers have benefitted from a food handling training programme in the Ashanti regional capital, Kumasi.
The event which formed part of "Voltic's Annual Customer Appreciation Time" exposed the customers to some new and basic ways of handling and storing water in a more safe and hygienic condition.
The session held on Tuesday October 30, 2018, in collaboration with the Ghana Standards Authority (GSA), took participants through the processes of certification, and enforcing personal hygiene and food safety at the various production plants.
According to Regional Sales Manager for Voltic Ghana Limited (VGL), Northern Sector, Patrick Asumang Yeboah, "Voltic is proud to upscale and support local franchises to produce and sell affordable, quality drinking water while improving the livelihoods of many others within the value chain".
"Over the years we've expanded our business and if you look at the percentage increase for the past year, it is over 300 per cent and to me there's a very good win-win situation between us and our distributors.
"What we're trying to do is to get more supervision between us and them to make sure that they abide by the rules and then also go by the standards that we've put in place."
He spoke of how the Cool Pac sachet water brand has led a major transformation in the beverage business with a current figure of about 4,000 people employed through it.
"To us, this Cool Pac franchise has created serious employment in this sector. We have about 4,000 employees with the ripple effect of distribution which is over 1,200 plus the middlemen who deal in our flagship products.
"What we want to do with this partnership is to make sure that we strengthen it by regulating it, by being strict in what we do or always increasing our standards to make sure that we get quality best products for our consumers."
The Voltic Ghana Northern Sector boss further hinted that almost all the production plants that could not conform to VGL's standards and that of the GSA and the Food and Drugs Authority (FDA) have been shut down.
"As at now all the plants that we're dealing with, are plants that are fully conformed to our standards, the GSA and the FDA."
"VGL has its monitoring team that also does a fantastic job by making unannounced trips to the plants to ensure owners conform to the standards and not just do the right things only when people are coming."
"We want to assure our customers, our final consumer that we go through rigorous exercises before we give out the franchise and secondly we make sure people abide within those regulations that is laid down," Mr. Asumang Yeboah mentioned.
All of these interventions by Voltic Ghana is geared towards driving home its corporate social responsibility dubbed the 3WS which is empowering women, improving waste management and improving access to quality, safe water for all persons.
By: Ghana/Ultimatefmonline.com/106.9FM/Patricia Ama Bonsu