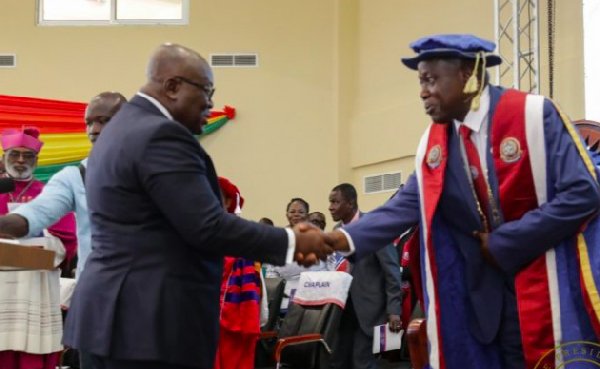 The ranking member on the education committee of parliament Peter Nortsu has charged the Council of the University of Education, Winneba (UEW) to give in to calls by the students and the University Teachers Association for the Vice Chancellor of the school to resign.
The UTAG branch of the University accused the governing council of complicity in the on-going impasse at the university.
According to the teacher union, the governing council has taken sides in the on-going dispute and is not taking control of the situation as it ought to, suggesting that it be dismissed.
The new Vice Chancellor, Rev. Prof. Afful-Broni is reported to have dismissed some teachers who openly disagree with him and his management style and policies in running the school.
Students of the school embarked on a demonstration on campus Tuesday to press home their displeasure at happenings at the university, demanding for the resignation of the Vice-Chancellor.
Speaking to Starr News on the development, Mr Nortsu called on the governing council to act on the demands of the student and the teacher union by impressing on the vice-chancellor to vacate his position.
"In the first place, the council erred in the appointment procedure. So they must correct it. They must listen to the voice of the students and the UTAG and make sure that the right thing is done. They should go through the right procedure.
"According to the statutes, there's a certain age limit before you can be appointed. This was ignored so the University's council must go back, sit up and then make sure that they do the necessary correction and go through a proper to appoint a vice chancellor," he told Starr News Wednesday.
Source: Ghana/Starrfm.com.gh/103.5FM