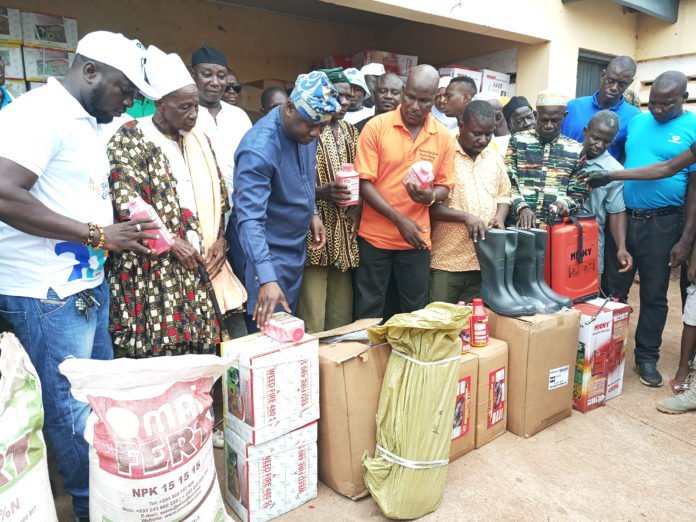 Farming this year for rural farmers in Yendi in the Northern Region has received a massive boost with the distributions of thousands of farm inputs and materials and the provision of free tractor service.
Over 800 struggling farmers in the area have received fertilisers, sprayer machines, weedicide, cutlasses, wellington boots, and anti-reptiles venom drugs.
This intervention would relief farmers of the ritual burden of late farming due to credit facilities and inputs which ultimately hurt agricultural productivity.
The respite, worth over GH¢150, 000, came from Alhaji Farouk Aliu Mahama, a  wealthy and well-educated son of Ghana's former late vice president, Alhaji Aliu Mahama.
Alhaji Farouk, a politician and philanthropist, declared intentions to join the political race for the Yendi seat on the ticket of the NPP and has since been, to an unprecedented degree, investing on and empowering smallholder farmers, poor communities, students, and women.
Through his Non-Governmental Organisation, Partnership for Poverty Reduction (PPR), several dozens of underprivileged and marginalised in the Yendi area have received support in a nonpareil effort to reducing poverty and improve living standards.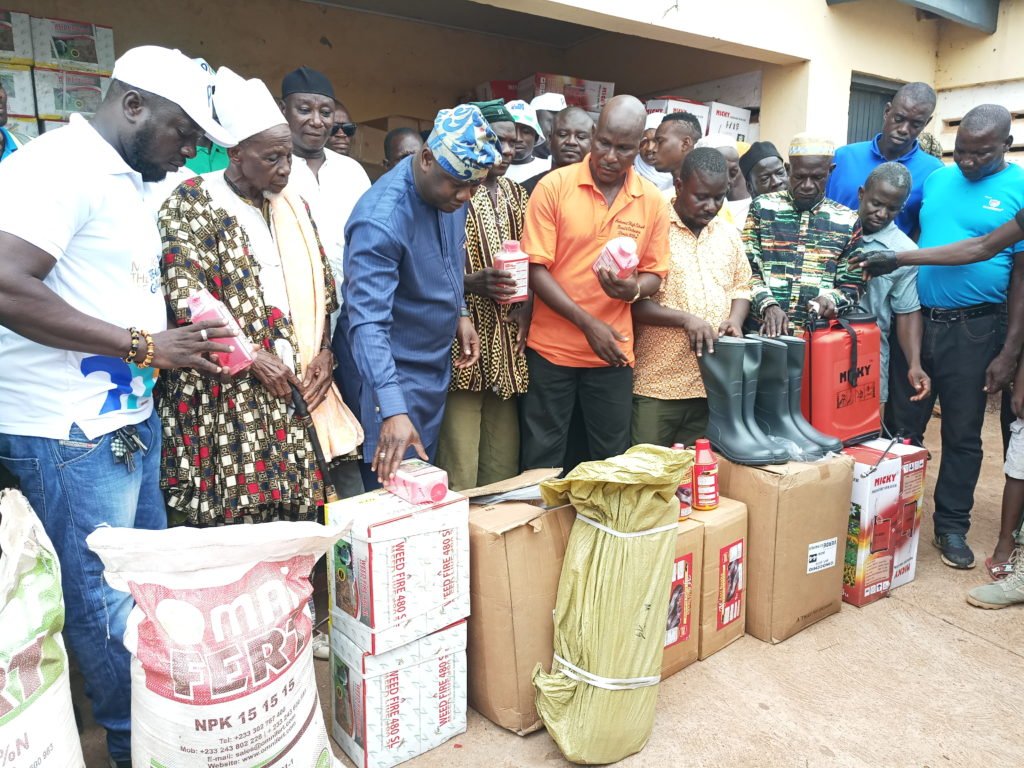 "My team and I identified that Yendi constituency lacks a lot of farming inputs, and there is the need for us to establish this NGO (PPR) to support farmers," Alhaji Farouk said, at a handing over ceremony in Yendi on Saturday, May 4.
"Last year we supported farmers with 600 knapsacks, this year, we have brought 1,200 fertilisers, weedicide, we brought wellington boots, anti-snake venoms, we have brought cutlasses, just to boost farming in the Yendi constituency."
He explained that the gesture would help modernise farming in the area and consolidate government's Planting for Food and Jobs national intervention, and also advance the goal of making Yendi the food basket of the Northern Region.
According to him, improved farming methods will lead to increased productivity and help farmers to better their financial fortunes, adding that, while farmers achieve optimum yields, it will help reduce poverty, in the area where the majority of the population is at risk of food insecurity and over 30 per cent of children are chronically malnourished.
He revealed that the NGO intends setting up an agricultural mechanised service centre to serve as a regional one-stop shop for farmers.
Alhassan Red, a middle-aged peasant farmer at Nakapachie, a village less than 30km eastwards of Yendi commending on the gesture said: "For years now, I have been getting 10 bags from my farms because I don't have money to buy fertiliser early and apply on the crops
"This items would help us a lot."
Source: Ghana/Starrfm.com.gh/103.5FM/Eliasu Tanko