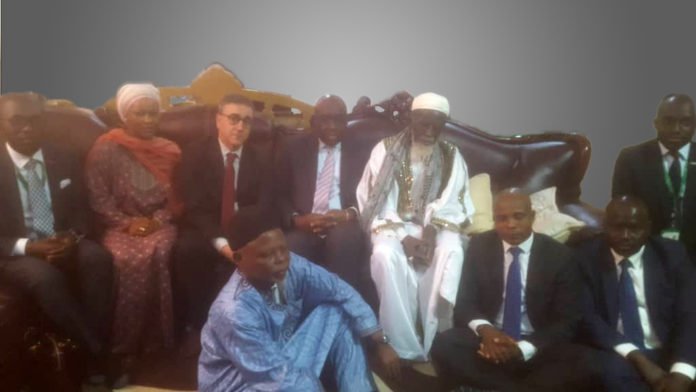 The Management of BANK OF AFRICA led by its Managing Director, Kobby Andah paid a courtesy call on the National Chief Imam, Sheikh Dr. Osmanu Nuhu Sharubutu at his residence in Accra.
Accompanying the MD were his two DMDs Youssef Benrhafiane and Fatoumata Gakou. Also with the delegation were Muctar M. Abbas, Head of Legal and Company Secretary, Abubakar Kwame Essuman, Head of HR, Musah Abdul-Rahman, Head of Foreign Operations and representatives from the Marketing and Corporate Communications department.
The visit was to commemorate with the National Chief Imam on the celebration of his 100th birthday and it coincided with the observation of Ramadan.
Welcoming the delegation, the Chief Imam expressed gratitude and appreciation for the visit and donation to him. He reiterated the meaning for the Ramadan and its importance to the Islamic faith. He emphasized that the Holy month of Ramadan is a season of giving to the destitute and vulnerable in society characterized by fasting and prayers.
Kobby Andah on behalf of the Bank was happy on the celebration of his 100th birthday, he called for good health and long life for him. Kobby lauded the Chief Imam for his humility, leadership and kind-heartedness demonstrated over the years.
He also praised him for his contribution towards national peace and unity especially his dedication to the work of the National Peace Council, "he is an embodiment of peace and unity" said Kobby. The Chief Imam was further commended for the demonstration of his spiritual leadership and direction for the Muslim community.
Source: Ghana/Starrfm.com.gh/103.5FM