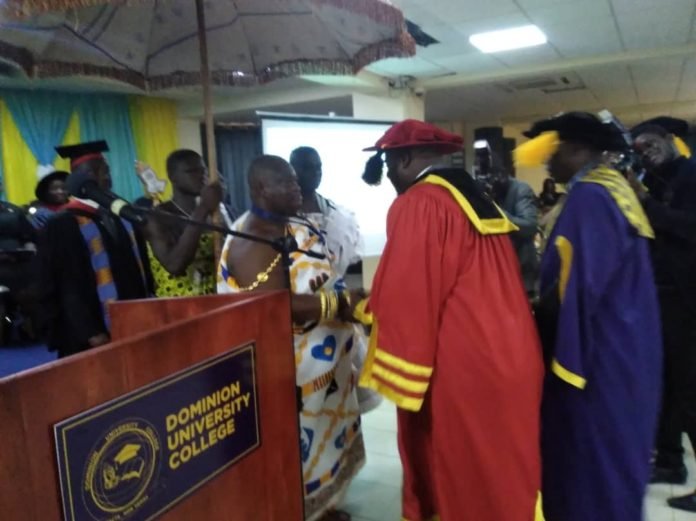 The new investitured Honorary Chancellor of the Dominion University College, Baafuor (Dr) Ossei Hyeaman Brantuo VI has called for a rethink of the country's education system to better the nation's development. The traditional ruler and right hand man of the Asantehene Otumfour Osei Tutu II, Baafuor Ossei Hyeaman Brantuo's appointment comes at a time when the university is readying itself for a takeoff to establish itself as one of the premier universities in the country.
The investiture ceremony which was held on the 14th of May 2019 saw a host of dignitaries throng the premises of the Dominion University to witness the ceremony. Key amongst the dignitaries were, Chief of Staff, Frema Opare Addo, Railway Development Minister, Joe Ghartey, GRA boss, Emmanuel Kofi Nti, MiDA boss, Essuon Benjamin and the board Chair of the GPHA, Peter Mac Manu to mention a few.
Chairman of the governing council, Prof. Felix Nikoi Hammond addressing the gathering disclosed that the university has launched a "radical and aggressive reforms to improve its national standing and relevance, to enrich the learning experiences of students as well as to expand the range of academic, professional and extra curricula programmes".
Prof. Hammond also disclosed that the university by close of 2019 will establish a graduate school. He adds the university is on track to launch four innovative PhD programmes. "These will be PhD in Statistics, Management, Clinical Psychology and Development Studies. In addition, a number of Executive Education, Corporate Training, Masters, Postgraduate Diploma and Postgraduate Certificate Programmes will be launched. These programmes have already been developed and are going through accreditation and affiliation approval processes".
Delivering his address, Baafuor (Dr) Brantuo promised to focus on three major areas which he says needs critical attention. He added that he would widen the access to higher education for the intelligent but financially vulnerable young people of the country, especially those from less endowed schools. He noted this could only be achieved through a strong and sustainable scholarship scheme, hence his commitment to establish the Dominion Endowment Fund to help the less privileged.
"As the Otunfuor advised during the Chairman and the President's courtesy call on him, Dominion University College will have to move away from the traditional theoretical approach of learning to pragmatism and relevance to industry and society as a whole… this calls for a change of focus in programmes to Science, Technology, Engineering and Mathematics oriented programmes. The world is moving fast in these areas and we need to move along with the times".
Baafuor Ossei Hyeaman Brantuo VI is a traditional ruler, a special Aide to the King of the Asante Kingdom and the head of the Manwere Division of the Kumasi Traditional Council. He was installed as the Otumfuor's Manwerehene in 1995, a position he holds till date. As head of the Manwere Clan, he supervises about a hundred (100) Chiefs and Sub-Chiefs and has been a member of the Kumasi Traditional Council and Asanteman Council from 1995.
Source: Ghana/Starrfm.com.gh/103.5FM