A former acting government statistician, Prof. Nicholas N.N Nsowah – Nuamah has been inducted into office as the new president of the dominion university college.
He is to head the university for the next four years with a mandate of transforming the university into one of higher learning offering an opportunity to develop careers and employability skills.
The investiture and induction ceremony took place on the 30th of April 2019 at the university with dignitaries from the Parliament and International universities all present.
Prior to his appointment as president, Prof Nsowah-Nuamah headed and lectured in several academic institutions including, Regent University College of Science and Technology, Kumasi Polytechnic, Kumasi Technical University, University of Ghana and the Kwame Nkrumah University of Science and Technology.
He also holds a PhD in Statistics from the Moscow State and has performed other critical roles outside the lecture hall, which include the deputy/acting Government Statistician from 2004 to 2009 and consultant to ECOWAS, MICRO International, World Vision, ILO, World Bank, UNICEF, FAO, and 9 others.
Speaking at the ceremony, governing council chair for the Dominion University, Prof. Felix Nikoi Hammond said the university was proud "to have Prof Nsowah-Nuamah as our new President. His appointment is surely a landmark moment for Dominion; not just because he is an internationally respected academic with many accolades. But also because he has the hallmarks of a great leader committed to elevating Dominion to the forefront of higher education in Ghana and beyond."
He added the university was confident Dominion University will see a rise in its place as a great university in West Africa.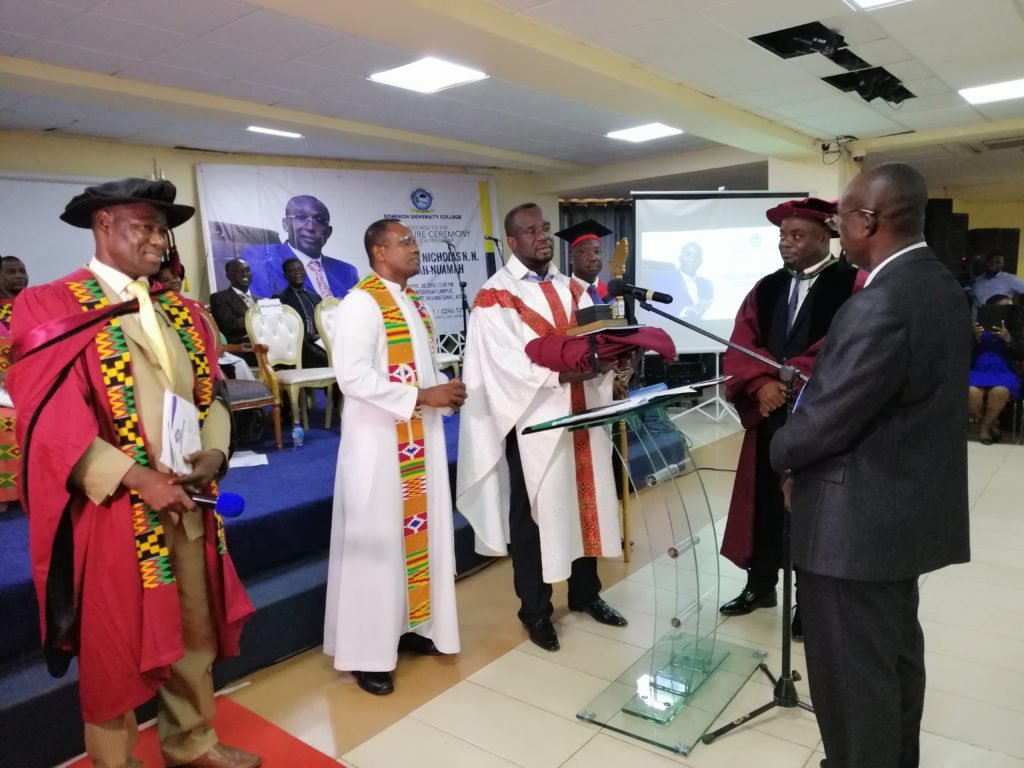 Taking his turn to address the congregation, newly sworn in president of the Dominion University, Prof. Nuamah pledged to usher the school into a new phase. Admitting to the challenges of low enrollment, low staff retention and the unfriendly affiliation system with its financial burden Prof. Nuamah said he would work speedily to obtain a Charter for the school.
"My administration will adopt an open-door policy and strengthen the involvement of the various associations in policy making and implementation; establish alumni platform to improve alumni-university relations and strengthen the academic quality assurance unit to promote efficient academic staff self-assessment, regular students' assessment of lecturers and effective peer review," he said.
He also promised to set up a Centre for Products Design and Development. This he hoped would improve student enrollment with a focus on "developing innovative technology solutions and skills to the looming social and economic problems of communities and organizations in Ghana and other West African Countries.
Some students also expressed optimism following the ceremony with many aiming at working with their new President.
Source: Ghana/Starrfm.com.gh/103.5FM