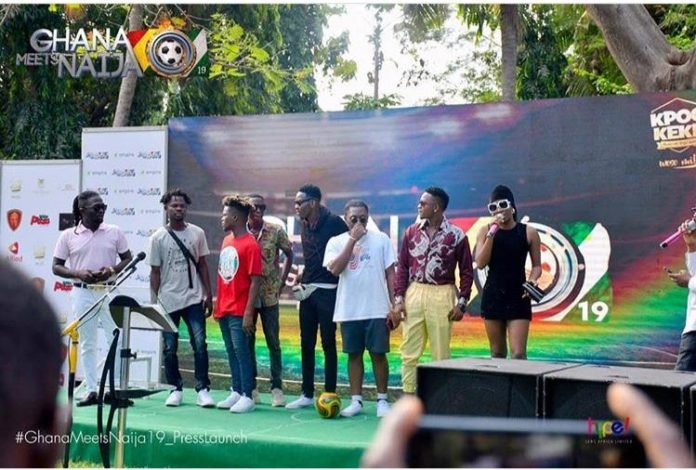 Since the launch of the 9th edition of the highly anticipated Ghana Meets Naija 2019 last Friday, various young musicians who have been given the opportunity by Empire Entertainment to grace the august stage have shared excitement and optimism ahead of the show.
Some of the fast-rising musicians who have expressed utmost elation include 'wiase y3 d3' crooner Quamina MP, 'wedding day' hit-maker Opanka, and fast rising hip hop act Kofi Mole.
Speaking to Starrm.com.gh about what to expect on June 8, Quamina MP said "we will have fun, we will party and do all the great stuff with more energy like I always do it."
He noted "actually I've never been on this platform before, so I'm on now by God's grace so I hope to put in more energy, do extra work."
He added: "I have new songs, you guys will get a new one very soon. But before that I'll put out 'amanfuor girls' video featuring Medikal, and then release another song after that."
Kofi Mole said "It's a good feeling and it's a dream come true. We've been dreaming of this thing and it has finally come."
"Expect ten times what I did at 3 Music Awards. God bless Empire, Bola Ray and Starr FM," he added.
Dadie Opanka said: "It's great, it's exciting. As an artiste performing, whatever show it is, it's like you being in the office. If you love your job, you get excited when you are employed, and that is the same feeling."
Opanka disclosed that he will be performing an unreleased brand new single on the night for fans to enjoy.
Ghana Meets Naija is a yearly event that seeks to bond the Ghanaian entertainment industry with the Nigerian. This year's edition will be held at the Accra International Conference Centre on June 8.
Source: Ghana/Starrfm.com.gh/103.5FM/Senanu Damilola Wemakor