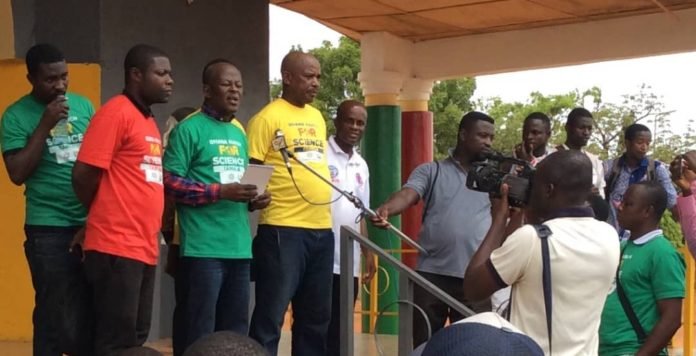 Scientists in Ghana over the weekend staged a street march in Tamale to demand from government an increased investment in support of science and technology.
"Specifically, we are asking that government increases investments in science and technology to at least 5% of GDP from the current 0.5%. The African Union recommends a 1% target and the United Nations recommend 3.5% but we think that is not far-reaching enough. 5% at least is the way to accelerate national development," organizers of the march, Alliance for Science Ghana said in a statement.
The march saw scientists from the University of Development Studies, Savannah Agricultural Research Institute, Science Students from Senior High Schools and other science-focused institutions as well as farmers converged at the Old Market Square and took a 30 minutes walk around the metropolis.
The GHANA MARCH FOR SCIENCE 2019 is under the theme; "Science – Our past, our present and our future." The theme emphasizes the importance of science in national development.
The focus of the march was on the role that science can play in helping Ghana meet Sustainable Development Goals 1, 2 and 3. These three goals aim at ending poverty in all its forms, improving nutrition and food security, as well as pushing for urgent steps to combat climate change and its impact.
Organizers of the march explained the objective was to draw attention to how science can be used to fix the problem of poverty and environmental destruction in several parts of Ghana.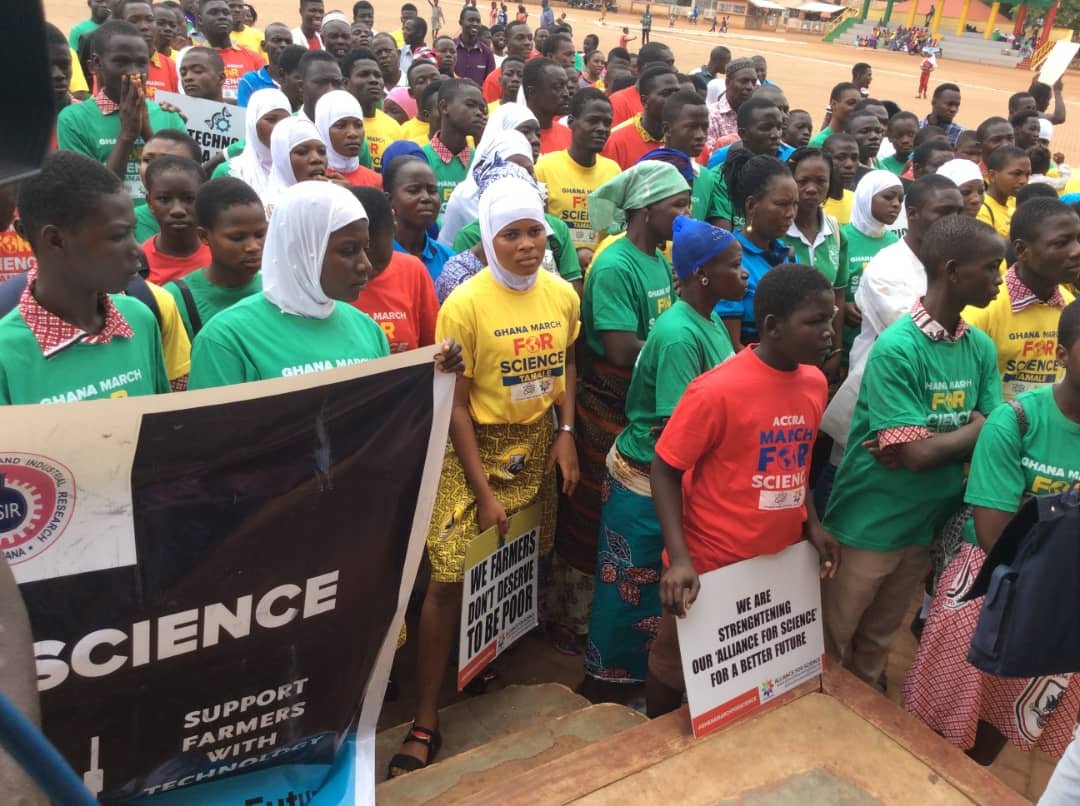 They said Ghana has made substantial progress in dealing with food insecurity and poverty, however, research shows up to 10% of Ghanaians are still living in extreme poverty and in Northern Ghana, up to 30% of children under five are stunted or chronically malnourished.
"We as scientists are convinced if these challenges can be dealt with effectively, science has a crucial role to play".
The scientist also called on government to do more to end environmental destruction, expressing particular worry that despite the ban on illegal harvesting of rosewood species since 2014, the practice has continued in the Savannah enclave.
"We will be glad if government sets up a task force similar to the illegal mining or 'galamsey' taskforce to protect the forests and particularly stop the continuous illegal logging of rosewood", the statement signed by Rueben Quainoo, an executive member of the organization, pleads.
Also speaking at the March, Chief Scientists at CSRI-SARI, Professor Roger A.L Kanton, concluded that based on the importance of science and technology in tackling global challenges,  no nation  would be able to accelerate its development agenda without strong funding and support systems for science and innovation.
He said Ghana would not achieve its economic development agenda of 'Ghana's Beyond Aid' if government continue to sidestep issues of funding support and investment for science and technology in the country.
He drew reference to the government flagship 'Planting for Food and Jobs Programme', which he claimed nearly failed at its implementation stages when scientists were left out.
"The President of this country has said, 'Ghana Beyond Aid", Prof. Roger said, "and I'm challenging the president of the country, he cannot talk about Ghana Beyond Aid without putting science and technology and innovation at the forefront. It will just be gimmick; it will not work".
He continued, "And I can say for a fact, if we come back to government policies, none of those policies if it is not unpinned by science, technology and innovation is like a moribund, nothing will work, it will just a mere talk".
Source: Ghana/Starrfm.com.gh/103.5FM/Eliasu Tanko