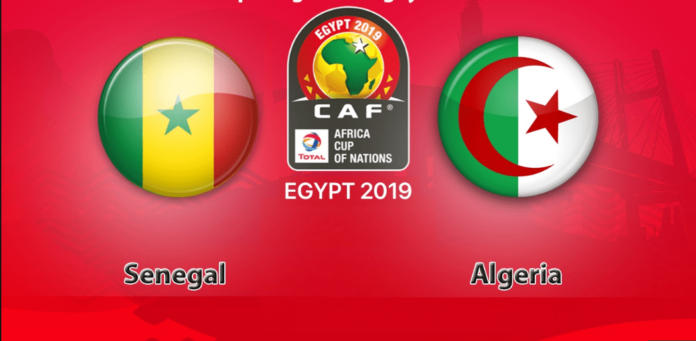 2019 AFCON Day 7 Wrap recaps all the action, featuring, Algeria, Senegal, Tanzania and Kenya.
Group B:
Following their 1-0 win over Burundi in their second group stage game, Madagascar are getting closer to reaching the round of 16.
The first chance of the game came when Madagascar forward Carolus Andriamatsinoro's powerful shot was saved by Jonathan Nahimana. Later on Carolus took a powerful header but it was cleared of the line by a Burundi defender.
Burundi's first real chance came at the beginning of the second-half when former England U-20 Gaël Bigirimana took a well placed free kick but was denied by Amiens' Melvin Adrien.
In the 76th minute Marco Ilaimaharitra broke the deadlock with a powerful free kick just on the edge of the penalty area.
Madagascar currently sit second in Group B with four points, two behind Nigeria. They will need at least a point in their next encounter against the Super Eagles to reach the round of 16.
The latest standing of group B is as follow:
Group C:
In the first game of the day for Group C, Algeria faced Senegal in a game that could very much decide the group's fate.
The first-half was pretty balanced with Senegal slightly dominating possession, however neither side was able to produce a clear opportunity.
Just four minutes into the second half Algeria broke the deadlock as Feghouli cut the ball back to Belaili at the edge of the box where he rifled a shot into the corner of the goal.
This result meant that Algeria are now the third team to secure their place in the round of 16
after Nigeria and Egypt.
Later on, Kenya were able to produce a dramatic comeback when they beat Tanzania 3-2 in their second group stage game.
Just six minutes into the game Happygod Msuvan opened the scoring for Tanzania, scoring his sixth international goal.
In the 39th minute Michael Olungo scored the equalizer with an outstanding volley inside the 18 yard box. A minute later, highly-rated Tanzanian striker Mbwana Samatta put his side back infront by placing the ball between the goalkeeper's legs and into the back of the net.
Then in the 62nd minute Johanna Omulu equalized for Kenya with a powerful following Ayub Timbe's cross. Ten minutes before the final whistle Olungo completed his brace and gifted the Harambee Stars the win.
This result means that Kenya will be battling for the second spot in their next game against Senegal on July 1 in the 30 June Stadium.
The latest standing of group C is as follow:
Source:Starr Sports