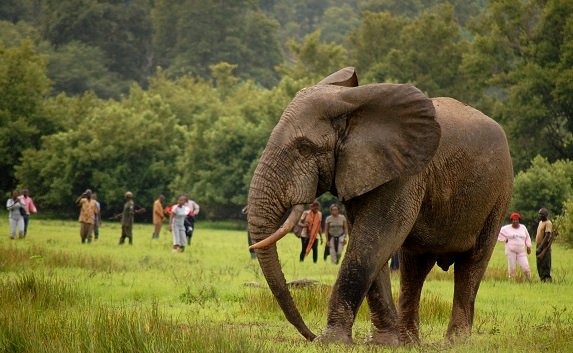 Seidu Yakubu, a resident of Larabanga popularly known as Chigoo has been rushed to hospital by the Damongo police after he was attacked by an elephant inside the Mole National Park.
Reports gathered by Starr News indicate that Yakubu shot the elephant at close range and was subsequently attacked by the angry elephant.
The elephant according to reports trampled on Yakubu until he was rescued. It is known if he succeeded in killing the elephant or not.
According to reports, two other hunters in the company of Yakubu (who could not walk) pulled him to a spot near Zaina Lodge in the Mole National Park and then fled to Larabanga for fear of being arrested by rangers of the Mole National Park.
The incident was later reported to the Assemblyman for Larabanga who quickly informed the Mole National Park authorities and the police.  .
Reports indicate that this is the second time Yakubu has been attacked in the Park.
He was reportedly attacked by an elephant in the year 2006 and seriously wounded with his intestines out but was saved by a staff of the Mole National Park who saw him deep in the bush.
A year later he killed an antelope in the Mole National Park and was arrested and jailed 7 years.
Yakubu only returned from prison about 3 years ago and it is reported he has so far killed five elephants.
Source: Ghana/Starrfm.com.gh/103.5FM