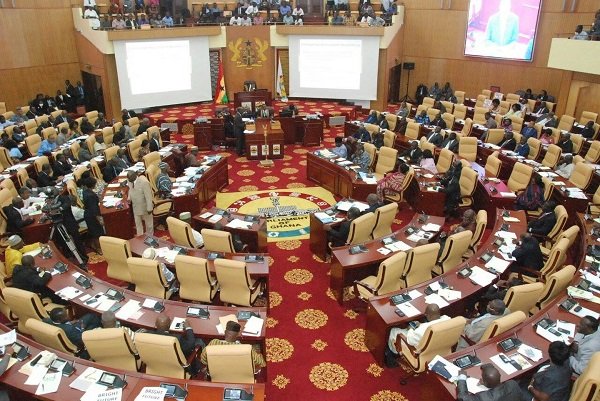 Members of Ghana's Parliament on Friday called for the heightening of their security following Thursday's attempted suicide by a 35-year-old man in the law-making chamber.
Mr. Kojo Mensah was arrested after he entered the public gallery with a rope which he tied around a chair and with one leg over threatening to jump from the first floor to his death.
He was in an NPP shirt and is said to have come to Accra from Kwesimintim in the Western region. He was whisked by the security in the gallery and handed over to the Police for further questioning.
The attempted suicide has once more exposed the laxity in the security architecture of the legislature,  jolting MPs to amplify their call for the need to tighten security around them and the chamber in its entirety.
Bemoaning the loosened state of the lawmaking chamber's security, several MPs speaking on the floor on Thursday spoke of how they felt naked and exposed to harm in the discharge of their duties.
"The security architecture of Parliament is in question and Mr Speaker on this floor time and again we have had reasons to complain and draw attention to the fact that sometimes even when you are in your office all of a sudden out of the blue people walk into your office trying to sell you doughnuts," Builsa South MP Dr Clement Apaak observed on the floor Friday.
"Only yesterday after the House rose I was in my office working on some letters and two gentlemen walk into my office and when I asked them how they got access to my office they couldn't explain. Mr Speaker, these are very challenging times and we need to be much more resolute in asking that our safety be prioritised," he added.
In his response, however, the first Deputy Speaker, Joe Osei Owusu blamed the MPs for not abiding by the security details in the House.
Meanwhile, President Akufo-Addo had described Ghana as the safest country in West Africa at a time when the country is reeling under increasing cases of kidnapping – the latest being the abduction of two Canadian nationals.
Lauren Tilley and Bailey Chitty were rescued by personnel of the national security and the police on Wednesday after being held hostage for a week in Kumasi.
The police retrieved a bomb and 36 live pistol ammunition at the crime scene where the two kidnapped Canadian nationals were kept.
Other offensive weapons including two pairs of scissors, knives with blood stains and a piece of torn singlet soaked with suspected blood were found at the Amoam-Achease location where the suspects were being kept.
Addressing the House of Assembly of St. Vincent and the Grenadines on Wednesday, June, 12 President Akufo-Addo stated that, "in today's world, where sadly crime and terror have become part of everyday life, I can say that Ghana is certainly the safest country in the West African region, and remains one of the few places on earth where we are not embarrassed to see ourselves as each other's keeper."
Source: Ghana/Starrfm.com.gh/103.5FM