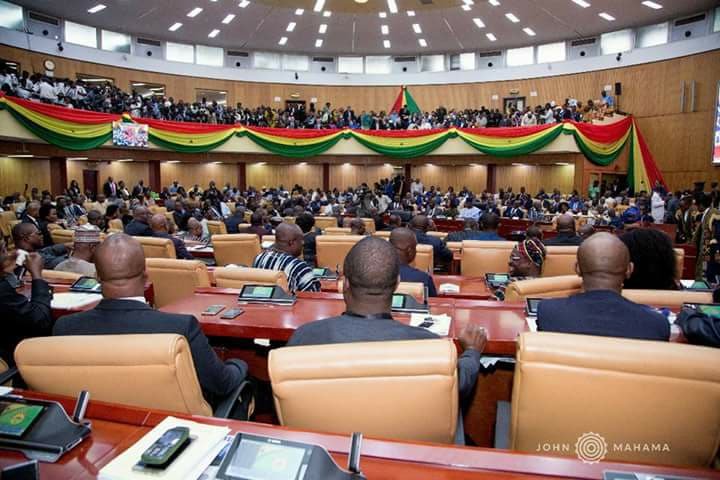 There was sharp division in Ghana's Parliament on Wednesday over calls for seats to be reserved for women to ensure some sort of gender parity in the lawmaking chamber.
Some members of parliament out rightly kicked against the call made by the lawmaker for Kumbungu Ras Mubarak in a statement on the floor of the House to the leadership of the two major political parties in Ghana to address the problem of inadequate women in the legislature.
"The representation of women in our parliament is a problem this house has inherited, it's a problem for parliament, a problem for all the political parties and a national problem that must not be swept under the carpet," Mubarak said.
"We stand the risk of waking up one day with an all-male parliament if we do not act. And that is very scary. Others have taken action and succeeded."
Citing the Rwandan Parliament as a case study, Mubarak said as the first country in the world with a female majority in parliament, there are as many as 61.3 for the lower chamber and 38.5 in the Senate in Rwanda.
For him, there is the urgent need for Ghana to adopt the measures taken by Rwanda as well as countries in Latin America where they have legalised gender quota for their parliaments.
"These countries use political gender quota systems that work perfectly," Mubarak said and encouraged the  Speaker of Parliament not only to conduct research into "why our female counterparts do not put themselves up for public office but to send teams of MPs like the young parliamentarian's caucus and the Women caucus and even leadership of this house to countries such as Norway which has had the gender quota systems since 1983, to Brazil, Bolivia, Rwanda, South Korea, Sweden, Denmark and even the UK to learn about the gender quota system in selecting female MPs and to see how parliament can help itself and the political parties to implement this."
"I believe that an increase in number of female MPs would bring increased focus on issues affecting women and children and as a proud father of two girls, Mr Speaker I do want tomorrow's generation to look at this parliament and say yes, these people stood up for women empowerment and went beyond lip service and make things happened."
North Tongu MP, Samuel Okudzeto Ablakwa, also called for reservation of some safe seats for women to address the disparity.
"Let's work on it and let us insert within that bill quotas to be reserved for women. Then we will be given practical manifestations, we'll be showing commitment to the constitution and the matter of gender balance," Ablakwa said.
"The rate at which we are going, we are racing to the bottom and if the work we do here, we are supposed to be representatives of the people, are we really representing the people, do we reflect the people. Majority of our population are women. 51% are women. Are we reflecting that? So, Mr Speaker, we should demand the political parties take active steps to include women, reserve seats in our strongholds for women so that women can participate actively in the legislative process."
The MP for Okai Koi Central and deputy minister for sanitation Patrick Yaw Boamah however, argued that equal opportunities must be created for women and not discriminate against men in their favour.
"We've had women who have contested men and beaten them in elections squarely," Boamah stated. "It's about conviction and your interest in the business of politics. It doesn't come to that easy Mr speaker. I share the views of my colleagues but in this country, you have to be competitive in every aspect."
According to him, women must be encouraged to actively participate in politic rather than pushing for the need to give them quota.
"There are various forms of supporting women to aspire for offices and I believe that just asking for some sub-ground, I don't think even the women will accept it. Because they believe that they have come of age and they can fight and compete in every election," Boamah said.
"It's not only in parliament that you would want to see women progress politically. There are other equally important positions which they have occupied. We have to encourage them. We just will not want to let them feel that you're coming to this business because we feel you're inferior. They're not. Some are way better than us men."
First deputy speaker Joseph Osei-Owusu pointed to an amendment of the 1992 Constitution as a starting point in getting more women into Parliament.
Source: Ghana/Starrfm.com.gh/103.5FM