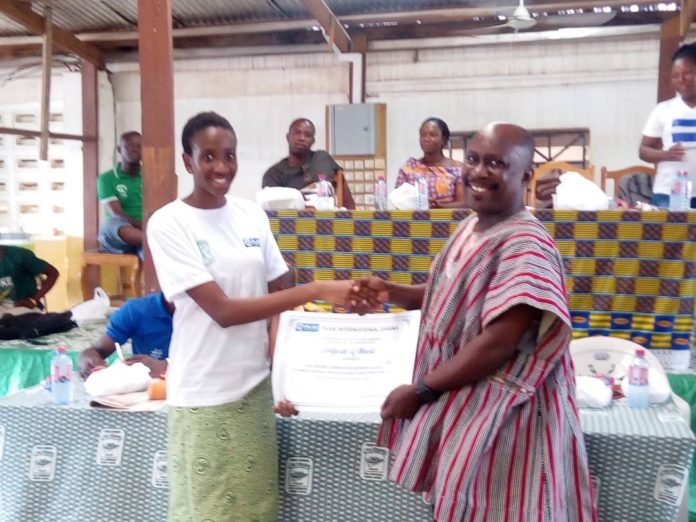 Yilo Krobo Senior High School emerged winners of a debate competition on Sanitation organized by Plan International Ghana as part of the commemoration of the 2019 Day of the African Child on the theme: 'Humanitarian Action in Africa: Children's Rights First'.
The debate was held for four second cycle schools in the Eastern Region on prevention of Sanitation related crises but Anum Presbyterian Senior High School failed to show up leaving Manya Krobo SHS, Yilo Krobo SHS and Assesewa SHS to slug it out in a well-researched and intellectual debate.
At the end of the debate, Yilo Krobo SHS emerged winners, followed by Manya Krobo SHS.
Some of the students told Starr News, the debate had broadened their knowledge on waste management and hygiene.
"We have been researching and reading about the topic of the debate and this has really helped us know many things we didn't know about waste management.
"We didn't know we segregate waste, get biogas from waste, we didn't know that every waste can be recycled and treated into something important but through this debate, we have known all these."
According to the Water and Sanitation Programme of the World Bank, Ghana loses around $290 million annually to poor sanitation which is equivalent to $12 per Ghanaian per year in Ghana and translates to 1.6 per cent of the national Gross Domestic Product (GDP).
The Eastern Regional Manager of Plan International Ghana, Kofi Adade Debrah, told Starr News, children must be actively involved in sanitation initiatives to imbibe positive attitude towards the environment.
According to him, though Ghana has not recorded any significant humanitarian crises, poor sanitation is a major threat which must be dealt with holistically with the enforcement of Ghana's Environmental and Sanitation laws to the letter.
Source: Ghana/Starrfm.com.gh/103.5FM/Kojo Ansah