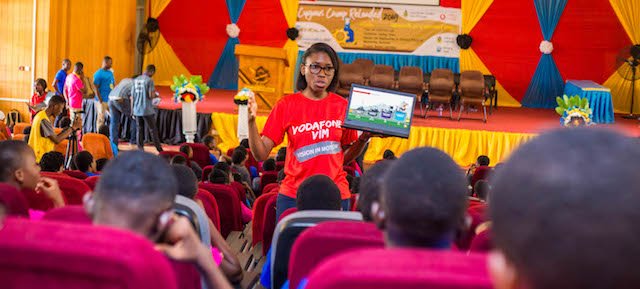 About 260 girls from selected senior high schools and tertiary institutions across the country are set to benefit from an engineering boot camp supported by the Vodafone Ghana Foundation.
The Vodafone Ghana Foundation is setting the pace again in grooming the next generation of change makers and digital creators, by partnering the College of Engineering at the Kwame Nkrumah University of Science and Technology, on the "Cygnus Engineering Camp 2019 Reloaded Programme".
The 4-day boot camp, seeks to identify and nurture the skills of some 300 students in Science, Technology, Engineering and Mathematics (STEM).
According to the network, opening up the youth to the potential and prospects of the digital world is critical to finding solutions to societal challenges.
Speaking to Ultimate Business after the launch in Kumasi on Tuesday, Corporate Relations Manager at Vodafone Ghana Ebenezer Amankwah mentioned that: "As a telecom's company, we reflect the future of technology, we stand for digitization and once we do that, it shouldn't only reflect in our products and services but also reflect in the communities in which our workers live and work."
"The Vodafone Ghana Foundation which is a subset of Vodafone Ghana itself is committed to educational platforms that will inspire the youth towards greatness. Coding is really what is inspiring the youth around the world as we speak; it's the language of the internet."
"Our digital platforms, instant schools and national coding programmes are all initiatives that are geared towards empowering the youth with the new trend of technology and digitization", he mentioned.
Explaining the rationale behind the 260 selected females, the Vodafone Corporate Relations Manager stated that: "We're looking at the girl child because the area of STEM in this country and even across the world, sort of eliminates women. If you look at Ghana, I think the ratio is of boys compared to girls in STEM education is 6:1 and that is a sad commentary on a country that expects to use technology to propel us for development."
He continued: "Studies have shown that intellectually, a woman's ability to be in this field is amazing and so we're happy to be inspiring them at this level. We've seen evidence in our Vodafone Scholars Programme that we launched some years back."
Mr. Amankwah was elated most females who took advantage of its STEM-sponsored programmes are now pursuing careers in the medical, engineering and other related disciplines.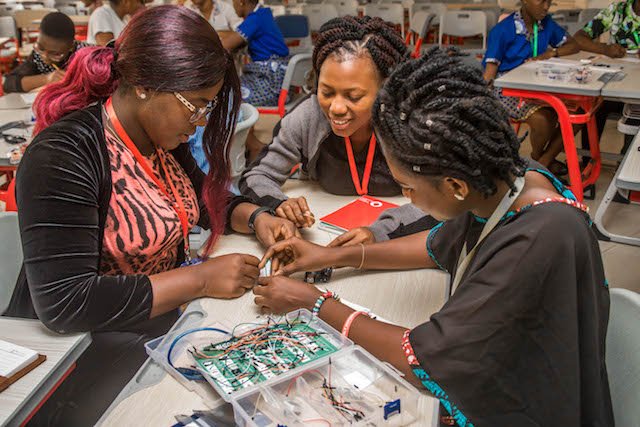 The students will be taken through hands-on training activities which include coding, building robots, building up drones that could pick up and sorts out materials. They will also benefit from career-guidance sessions to better shape their dreams.
The Provost of the College of Engineering at KNUST, Professor Mark Adom-Asamoah on his part expressed the school's appreciation to Vodafone Ghana for sponsoring the event.
He further underscored the importance of females in engineering, stating that they bring an appreciable level of empathy into the discipline which helps in development.
"Females are more stable than males because they are likely to stay and not exit the country after training. I believe training females is very important; currently we're doing 85 per cent males and 15 per cent females and I believe that if we can take the female population to even 40 per cent, it will be very good for us as a nation."
"I am looking for to the day where we can even have engineers ready to go and teach in basic and secondary schools, so that they can better impart the engineering knowledge and principles into the students at a very early age, Prof. Adom-Asamoah noted.
Source: Ghana/Starrfm.com.gh/103.5FM/Patricia Ama Bonsu