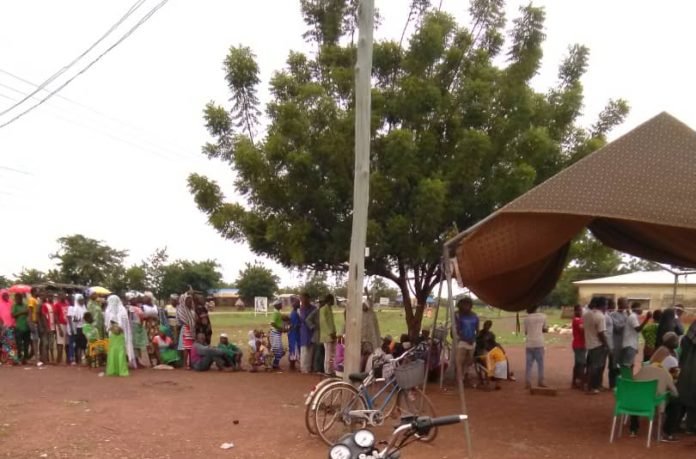 The electoral commission officials at Gushegu and Karaga Districts are registering minors in the ongoing limited registration exercise without interrogation.
With just four days left for the exercise to end, political parties in the two Districts appear to be using all available means to register people for their own benefits ahead of the 2020 general elections. Both the NPP and the NDC have breached the rules of the exercise by leading children who are under the age of 18 to register.
Even though rules of the exercise stated that a registrant must provide a travelling passport, drivers licence, National identification card, a birth certificate or an old voters ID, before they would be allowed to register, these children do not possess any of those EC officials at the centres register them without further interrogation even though they can tell that the children are not up to the age of 18.
An investigation by Starrfm.com.gh revealed that these children are lured by political party executives to go for the registration.
Some of the children Starrfm.com.gh spoke to said they were being guided by their elders to come and register. "I am 18 years, I don't know my date of birth but my father told me to say I am 18 years if anyone asks me," one Mahama said.
Another Khadija said: "I don't know my date of birth but I am 18 years, I was given GHC10  to come and register".
Meanwhile, The National Democratic Congress (NDC) has accused the Electoral Commission (EC) of masterminding a plot to disenfranchise its support base.
Addressing a press conference last Thursday, NDC's General Secretary John Asiedu Nketia said the party has received reports "from our strongholds that some areas are being underserved, either deliberately or inadvertently while the strongholds of our opponent have been overserved with its obvious consequences."
The limited registration which begun on Monday 17th of June is expected to end on Sunday 7th July, 2019.
Source: Ghana/Starrfm.com.gh/103.5FM/ Jonas Biawurbi