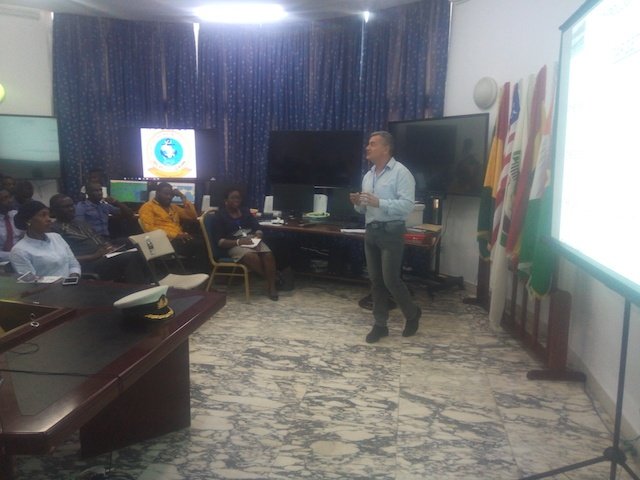 Agencies working in the maritime space in Ghana have started a capacity building program aimed at sharpening their knowledge on piracy and related maritime crimes at sea.
The five-day baseline training supervised by the ECOWAS Multinational Maritime Coordination Center (EMMCC) will focus on piracy on the Gulf of Guinea and related maritime security concerns threatening the sub-region. Thirty-five participants have been drawn of from security departments of critical institutions including Ghana Ports and Harbors Authority, Ghana Maritime Authority and other security agencies including the Narcotics Control Board, the Ghana Navy, Air Force and the like.
Acting Director for the ECOWAS Multinational Maritime Coordination Center, Commander Yussif Benning said "this training is tailored to let our staff and the officers from the other agencies know what the nature of piracy in the Gulf of Guinea is, the evolution of it; how did it start? Where are we now and how is it likely going to go?" "So that when our staff are monitoring events at sea, they will be able to identify the possible clues or signs of a piracy incident about to take place" the Commander of the Ghana Navy hoped.
He explained "by the 26th of this month, the member countries of Zone F; I'm talking about Ghana Cote d'Ivoire, Liberia, Sierra Leone, Guinea and Burkina Faso are going to sign a memorandum of understanding to conduct joint maritime patrols at sea. What it means is that all these countries will pull their resources; ships, human resource, aircraft and everything that it takes to patrol at sea at one location". The move will help the countries "launch patrols and sweep across this maritime space to ensure that only people who have the legitimate right or doing legitimate business can operate at sea safely" according to Commander Benning.
Deputy Defense Minister, Major (Rtd.) Derrick Oduro noted "today, the Gulf of Guinea is being considered as one of the most dangerous maritime space for shipping in the world". The Nkoranza North MP added "the growing number of pirates hijacking vessels, kidnapping of crew for ransom, illegal bunkering and illegal fishing pose a significant threat to our prosperity; leaving our people in deep despair". The deputy minister echoed the linkages between criminal activities at sea to transnational organized crime and terrorism.
Ghana's waters has been classified as the second deadliest for vessels after Nigeria on the gulf, recording increasing activities of piracy and other illegal maritime crimes that makes it unattractive to vessel operators in the world. The retired military officer stressed "winning this fight against maritime piracy and other transnational crimes at sea requires well trained professionals backed by necessary resources and legal framework to ensure criminals are brought to justice to serve as deterrents". He assured the center of Ghana's commitment to support their work in sanitizing the gulf.
The ongoing training which is the first of its kind in the country is being provided by experts including retired officers of the French Navy with support from Kongsberg Satellite Services (KSAT). Acting Director for the ECOWAS Multinational Maritime Coordination Center stated that it is primarily targeted at addressing knowledge gaps for personnel, fostering inter-agency collaboration, coordination; gathering, analyzing and sharing data on criminal activities at sea. He revealed that other areas of concern like illegal bunkering, illegal fishing, and environmental pollution will also be addressed later.
Source: Ghana/Starrfm.com.gh/103.5FM