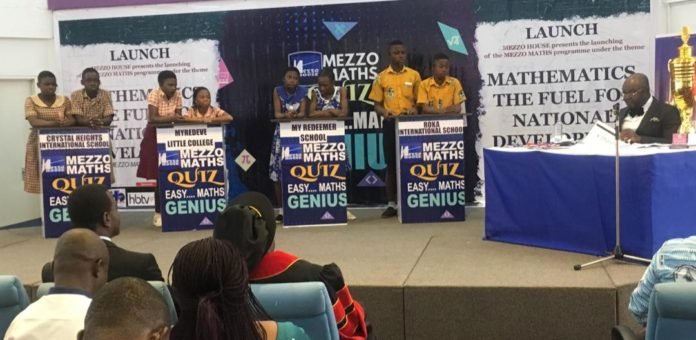 Mezzo House Limited, a mathematical organization, has officially launched its flagship mathematics competition for school children in Accra Thursday.
The launch coupled with the grand finale of this year's edition of the competition was under the theme 'mathematics, fuel for national development.'
Deputy Minister for Education Dr Yaw Osei Adutwum led the founder of Mezzo Math, Bishop Osei Akoto, former UTAG and MAG President Prof. Samuel Asiedu-Addo and other dignitaries to officially launch the competition.
The Deputy Minister said "the NPP government as part of our manifesto has committed ourselves to making Ghana a mathematics friendly nation. Mezzo Maths is leading the way and you are an organization we will partner with because you are taking the fear out of the minds of our students."
He urged organizers of the competition to include public schools, saying "I've realized that invariably, under this circumstance we going to see more private schools participating. Our public schools should be part of it, and I welcome partnership with us as a ministry so that we can give an invaluable tool to use in our public schools."
He reiterated that the Ghanaian curricula is being reformed.
He explained "from KG to primary 6, we've already done it and we are training teachers so that we can have a different way of teaching and learning, a way that mathematics for example will be fun, and a way to give students a voice in mathematics. It just shouldn't be what the teacher is saying, and because I'm the teacher and I've written it on the board and that's the answer."
"No, students should be at the centre of the teaching and learning of mathematics and I believe that is what Mezzo Maths is equipping you to do," he added.
Mrs Berty Buah, coordinator of the Regional Science, Technology, Mathematics and Innovative Education, speaking on why students fail mathematics, blamed the addiction of students to the internet and social media, saying that it is not always the fault of the teachers.
She consented that parents and guardians also create an impression to their wards, that maths is difficult.
She quizzed "as a country we have to take an initiative. With this social media and technology, a necessary good or a necessary evil?"
She said "how do you as a student approach this issue? And so we want to let you know that the failure is also from your side."
"Children grow up and they have that notion that maths is difficult. Mummy is saying it, daddy is saying it. And so we appeal to the parents that you are also a contributing factor to the failure of our students in mathematics. It's about time for us to change the way we talk about maths in the house, the way we approach maths in the house. Parents should talk positive about maths, and encourage their children to love maths," she added.
Mrs Buah noted "as teachers, we have done all that we could, but the fact is we cannot run away from the fact that we also contribute to the failure of the children."
She urged "if you are being posted to schools to teach maths and you think that you are not a maths teacher, please don't go and embarrass yourself. Let the mathematicians do their calculations. "
Founder of Mezzo House Limited, Bishop Osei Akoto said "Mezzo maths is the pragmatic protagogy of mathematics. Mezzo is the activity based learning approach coupled with games that bring to bare the holistic approach to the teaching and learning process. This has been the vision and success story behind mezzo."
He added, "we hope to make this program a household program so that every school going child in Ghana and in Africa will have a taste of it, and also benefit from this program. We want to inform the general public that this is one of a kind program that has come to stay and it is a program that will transform every school going child in this country. It will make them fall in love with mathematics."
GRANDE FINALE
Schools that participated in the grand finale included Roka International School, My Redeemer School, Crystal Heights International School and Myredeve Little College, with Crystal Heights coming out as winners after five founds of the intense mathematical quiz.
Source: Ghana/Starrfm.com.gh/103.5FM/Senanu Damilola Wemakor