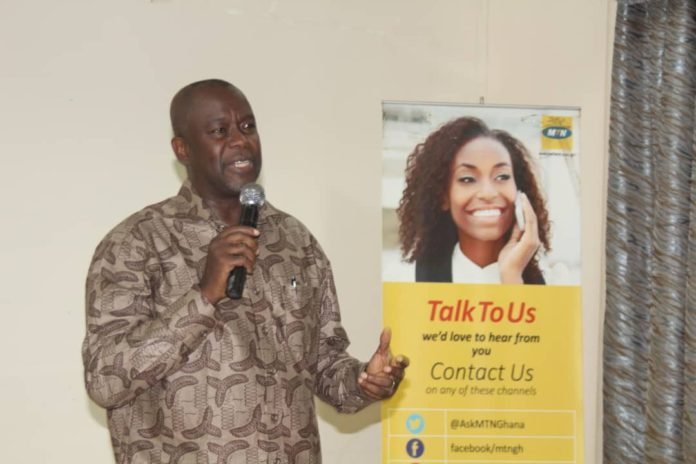 Management of Mobile Telecommunication Network (MTN) Ghana, has expressed worry over increasing incidents of optical fibre cuts in the country, inhibiting its quest to provide uninterrupted quality voice and internet service to its customers.
Optical fibre laid underground in long-distance is used by many telecommunications companies to transmit telephone signals, high-speed Internet service, and cable television signals.
However, according to MTN, its Optical Fiber infrastructure suffers high attacks recordings 1143 fibre cuts at the end of 2018 costing the company 7.5 million Cedi to repair. This year, about 708 fibre cuts incidents have been recorded on the Company's fibre infrastructure throughout the country as at May out of which 103 were recorded in the Eastern Region.
Forty per cent of the fibre cuts incidents are perpetrated by road contractors, 37% by private developers, 7% by PDS, 7% by Ghana Water Company, while another 7% occurred in mining sites.
The Corporate Services Executive of MTN, Samuel Koranteng, told the media during Editors Forum held in Koforidua by the company that legal actions are being considered against perpetrators whose negligence lead to cutting of the fibre.
"To replace a whole kilometre of fibre it cost $18,000. Now incidents recorded at the end of 2018 was 1,143 fibre cuts and this cost us 7.5 million cedis. In instances where we have evidence that the fibre cut has been as a result of negligence we intend to take legal action against those who were responsible".
Another challenge tabled was astronomical fees charged by Metropolitan, Municipal and District Assemblies in securing business-operating permit and laying of fibre delaying the company's zeal of improving its service delivery in parts of the country.
"We have come across some MMDAs who have not gone in accordance with the agreed guidelines issued by the Ministry of Local Government where we receiving astronomical bills in terms of business operating permitting fees for us to lay fibre but fibre connectivity is what helps us have good data experience so when we come across this stumbling block it slows down pace of rolling out fibre connectivity to various areas."
Despite these challenges, MTN has this year invested a total of 160 million dollars into network expansion and upgrade including 4G plus infrastructure and increased its sites to 600 nationwide.
Source: Ghana/Starrfm.com.gh/103.5FM/Kojo Ansah