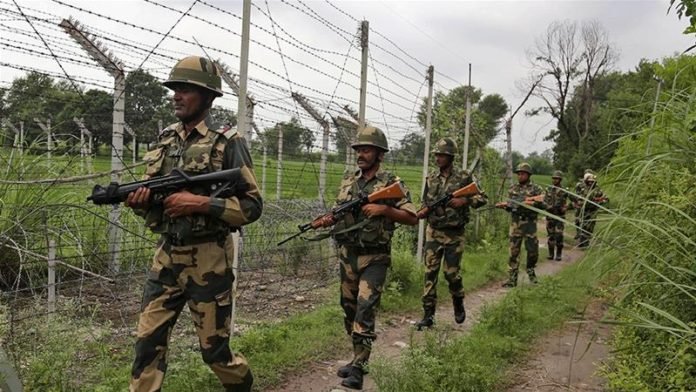 Pakistan's army has said at least three Pakistani and five Indian soldiers have been killed after a cross-border exchange of fire in the disputed region of Kashmir, prompting a denial by New Delhi that there were fatalities among its forces.
Major General Asif Ghafoor, spokesman of Pakistan armed forces, wrote on Twitter on Thursday that its three soldiers had died along with five of India's when Indian forces opened fire along the contested border, known as the Line of Control (LOC).
"Intermittent exchange of fire continues," Ghafoor tweeted.
He told Al Jazeera that three civilians were also killed on Thursday in the same cross-border firing at Batal sector on the Pakistani side of the LoC.
An Indian army spokesperson denied the Pakistani army's statement. "No casualties. This assertion is wrong," the spokesperson was quoted as saying by Reuters news agency.
In a statement quoted by news agencies, the Indian army said that from around 7am Pakistan violated a ceasefire between the two nations in the heavily militarised LoC.
Kashmir status scrapped
The developments come during a period of increasing tensions between India and Pakistan after New Delhi's Hindu nationalist government last week revoked special status for Indian-administered Kashmir.
The decision by India blocks the right of the Muslim-majority state of Jammu and Kashmir to frame its own laws and allows non-residents to buy property there.
Telephone lines, internet and television networks have been blocked and there are restrictions on movement and assembly.
In the lead-up to its controversial move on August 5, India also deployed thousands of additional troops and arrested political leaders in Indian-administered Kashmir.
Nuclear-armed India and Pakistan have fought two of their three wars over the disputed territory of Kashmir.
"Details are emerging that there were some damage to homes in the area. Tensions remain high on this border," Al Jazeera's Osama Bin Javaid, reporting from Muzaffarabad in Pakistan-administered Kashmir, said.
"We've have been visiting some of these villages, where people have been telling us it is very difficult for normal life to continue there because they live under constant fear."
On Wednesday, Pakistani Prime Minister Imran Khan addressed the local legislative assembly of the Pakistani-administered Kashmir in Muzaffarabad.
He vowed the time had come to teach New Delhi a lesson and promised to "fight until the end" against any Indian aggression.
Khan has also likened India's moves in Kashmir to Nazi Germany, accused them of ethnic cleansing, and appealed to the international community to take action.
Pakistan formally asked the United Nations Security Council late on Tuesday to hold an emergency session to address the situation.
Source: Aljazeera