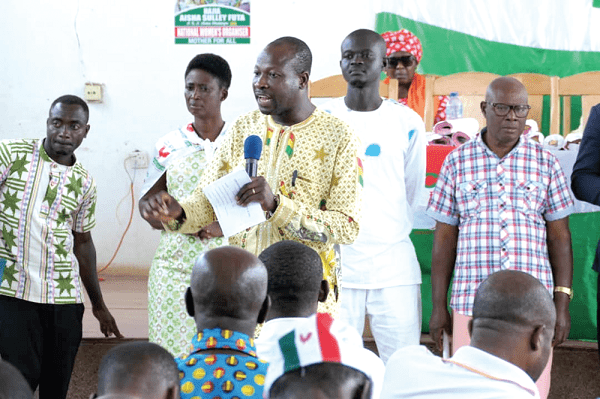 The Convention People's Party (CPP), has elected officers for 14 regions.
The election of regional officers was conducted in a record period of 13 continuous days in all the regions except Volta and Greater Accra.
A statement issued by the party, said the acting Chairperson and Leader of the party, Hajia Hamdatu Ibrahim, led a team of national executive members to organise the conferences.
It mentioned other executive officers who were part of the team as National Organiser, Emmanuel K. Ogborjor, National Women's Organiser, Hajia Aisha Sulley Futa, the acting National Youth Organiser, Basiru Nabila Alhassan and the acting General Secretary, James Kwabena Bomfeh Jnr.
Vote Yes
It quoted Mr Bomfeh Jnr as saying that like the sun rising from the East, the party was awake and not going  back to sleep anymore until they had interacted with every Ghanaian and convinced them to give their mandate to the CPP.
It said the leadership of the party at all the conferences urged their members to go out in their numbers to vote during the December 17, District Level Elections and Referendum.
The statement said the party leadership tasked their members to vote in favour of the amendment of Article 55 (3) of the 1992 Constitution to allow for the participation of political parties in the election of MMDCEs.
"For the CPP, the election of MMDCEs won't be enough. We shall move a step further to amend the Constitution in its entirety to give meaning to sincere decentralisation," it stated.
Education
It said a CPP government will make education free and compulsory for all basic students and also make Senior High School (SHS) part of basic education. Tertiary education, it added, would be state sponsored
That, it explained, was because the CPP considered education the key to development emanating from a responsible, responsive and sensitive citizenry.
On health, the statement said the CPP would review the health policy of Ghana to expand the national health insurance scheme to cover all ailments and medications.
It said the party would add a free compulsory annual medical checkup as a component of the country's health policy.
Inclusive government
"To achieve these, the CPP promises to run a truly all-inclusive-government which will tap into the talents and potentialities of all Ghanaians.
"The CPP is poised for constant and sustained engagement with the populace and promises to lead Ghana better than what Ghanaians have experienced in the 26 years of return to civilian rule.
Source: Graphic