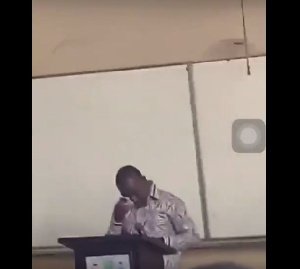 It was supposed to be his first lecture after the 'sex for grades' documentary by the BBC but Professor Ransford Gyampo's was met with jeers and boos as he entered the lecture hall on Monday.
In a video going viral on social media, Prof. Gyampo can be seen at one point wiping a tear from his eye as students serenade him with loud jeers and epic boos amid obscene remarks.
From the video, it is clear that the Professor's image at the Ghana's premier university has been tainted and he is likely to lose his respect among his students.
Prof. Gyampo who is also the head of the European Studies at the university was seen and heard in the BBC documentary which mentions him as one of the lecturers who offer grades to students in exchange for sex.
In excerpts of the video released on BBC Somalia's Facebook page, Professor Gyampo persuaded the reporter to meet him at the mall where he was caught on camera making "numerous inappropriate demands."
The lead reporter in the exposé, Kiki Mordi, said she was also a victim of sexual harassment when she was in school.
But Professor Gyampo has vehemently denied the allegations stating that nowhere in the video did he demand sex for grades.
He added that it is wrong for the BBC to claim that he was demanding sex from someone who is not yet a student of the university and has threatened to sue the British Broadcasting Corporation.
The documentary was commissioned in response to allegations of sexual harassment by lecturers that have hovered over tertiary institutions.
After initial interviews, BBC Africa Eye sent undercover journalists posing as students inside the University of Lagos and the University of Ghana.
The BBC said its female reporters were "sexually harassed, propositioned and put under pressure by senior lecturers at the institutions" while they were wearing secret cameras.
The bulk of the excerpt released spent time in the University of Lagos and one of its lecturers alleged attempts to proposition a student seeking admission into the school.
Source: Ghana/Starrfm.com.gh/103.5FM