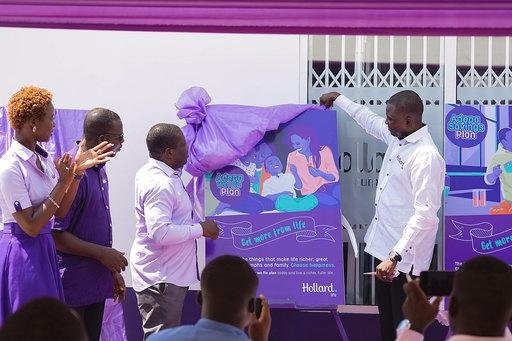 Hollard Life Assurance Ghana has launched three brand new value-added products namely Adepa Wo Fie, Adepa Goal Save and Adepa Saving Plan dubbed the 'Adepa Three', following the success of its Adepa Family Plan which was released last year.
The products are aimed at bringing joy, happiness and absolute peace of mind to breadwinners and their families.
According to the company, a total of GHC33.7m worth of cover has been insured by Hollard for individuals and their dependents or families since the introduction of its Adepa Family Plan in September last year.
Speaking at the launch, Nashiru Iddrisu, Managing Director, Hollard Life Assurance Ghana said the products will bring relief to Ghanaians as well as create and secure a better future for prospective clients.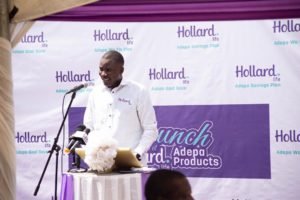 He said that the competitive and thriving insurance climate in the country was not just about simple life policies but about the innovative benefits and terms that make difference in policyholders' futures.
"As part of our strategy to provide value-added products, and a first in our market, last year, we launched the Adepa Family Plan. This is a product that truly covers every member of the nuclear and extended family and up to 24 others. The Adepa Family plan also gives free cover to five of the policyholder's children with a guaranteed 20% of premium as money back after every five years, whether a claim was made or not, he added."
Mr Iddrisu indicated that "on the success of the Adepa Family Plan, we're excited to introduce the adepa three, namely, Adepa Wo Fie, Adepa Goal Save and Adepa Saving Plan. You would have noticed that our product names are prefixed "ADEPA" meaning "GOOD THING". For, it is a good thing to enable more people to create and secure better futures with life."
Adepa Three
"Adepa Wo Fie" is a simple family-oriented plan with a single premium where your spouse and 5 of your children are covered for free. With as low as GHC27.00 a month, you can cover 7 members of your family.
"Adepa Goal Save" is designed for everyone with a specific target goal within a medium to long term. Set your goal and your timeline and we will quote the fixed monthly contributions needed to achieve the goal set. Your goal amount is assured even in the event of death.
"Adepa Savings Plan" designed for everyone who has a need for savings and a very secured future especially those who earn regular incomes. The plan permits partial withdrawals and gives very flexible access to policy benefits after 5 years.
About Hollard Life Assurance
Hollard Ghana Holdings Limited was established to support the vision of becoming the country's number one insurance group. Hollard Insurance Ghana, formerly called Metropolitan Insurance Company (MET) operated successfully in Ghana for 25 years, until it was rebranded as Hollard Insurance Ghana in 2015 and Hollard Life Assurance Ghana which started trading in 2018 are both subsidiaries of Hollard Ghana Holdings.
The purpose of Hollard Ghana is to enable more people to create and secure a better future by achieving exceptional, sustainable and inclusive growth and treating everyone with care and dignity. With our headquarters in South Africa and our feet firmly planted on Ghanaian soil, Hollard Ghana can deliver innovative insurance solutions that are customized to unique risks.
We are certified as a Top Employer by the Top Employer Institute.
Hollard Ghana Holdings Limited is a subsidiary of Hollard International which manages the international portfolio of the Hollard Group currently operating in 18 countries in Africa and Asia. Hollard International's vision is to aggressively grow its insurance businesses in Ghana and will do so by creating dynamic, consumer-oriented insurance solutions that meet the needs of all Ghanaians.
The Hollard Insurance Group which was established in 1980 is today the largest privately-owned insurance group in South Africa with turnover exceeding $2.5 billion and assets in excess of $5.1 billion. Besides South Africa, Hollard Insurance has thriving operations, partnerships and investments in Namibia, Mozambique, Ghana, Botswana, Zambia, Australia, China, India, Pakistan and the United Kingdom. Our partnerships permeate all our day-to-day activities and we are focused on recognising like-minded partners, understanding respective strengths and driving long-term value through optimised structures to ensure mutual success.
Hollard provides bancassurance expertise for banking licenses in Botswana, Zambia and Ghana, with Kenya, Tanzania, Uganda, Egypt, Mauritius, Seychelles and Zimbabwe in the pipeline. Recently, the Tokyo Marine Group, the largest insurer in Japan and one of the world's largest insurance groups, has partnered us through the acquisition of a 22.5% stake in Hollard South Africa and Hollard International for an investment of R5 billion. This gives us access to Tokyo Marine's global best practice in the areas of predictive analytics, robotics, risk management, underwriting and insurtech innovations.