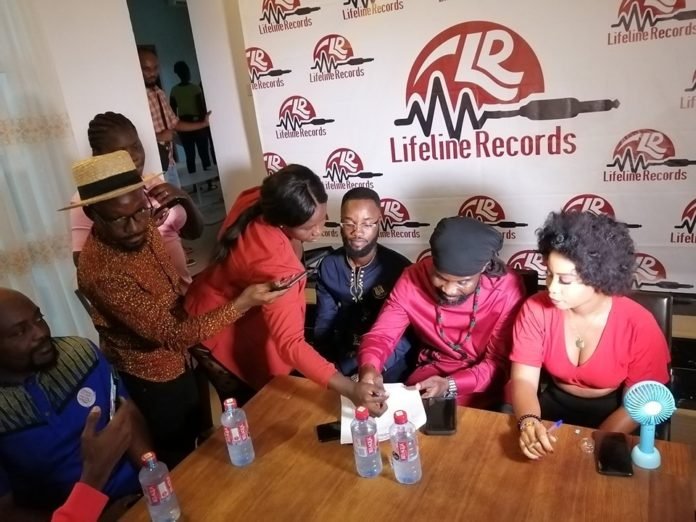 Ghanaian-owned record label Lifeline Records over the weekend sealed a five-year recording, management and promotion deal with young and talented musician 'Abochi' as well as songstress 'Dede Supa'.
Although the signing fee for both acts wasn't mentioned, the deal will see the musicians have all resources and services of the record label at their disposal.
Speaking to starrfm.com.gh at the official unveiling held in Nungua, CEO of Lifeline Records Yoofi Boham assured that his management team is poised to make Abochi and Dede Supa the stars that they are.
"We've done it for some popular Ghanaian artistes so we're ready to do more for our newly signed artistes to get to the top. We believe that with the support of all we can move Ghana music forward," he said.
On why he chose to sign two musicians at a go, he explained "every new dawn of day is a chance to learn something new. So if other people decide to do one at a time is the best way for them to go, then I shouldn't be like their ways are wrong, I respect their ways. But this is the path I want to go and I believe in their talents. Through our hard work and dedication, we will get it there."
"The authenticity of lifeline family is that we are limitless. When we first started I had almost like 10 people, 7 boys and 3 girls. The idea of knowing how to manage and talk to people is a skill that was given to me from birth. Managing Abochi and Dede, I don't think it should present any challenges to me," he noted.
Dede who is an afro-beats songstress expressed excitement about the signing having started singing just about a year ago. She said "I'm very lucky and very happy. All I want to to is give thanks to God for making everything happen. I'm very fortunate to be signed just one year in the industry. I'll appreciate them by working harder and improving on everything I do just to make them proud that they didn't make a mistake by signing me."
She said in a few years to come she sees herself as the best female vocalist ever seen or heard on the continent.
Abochi, on the other hand, said he would exhibit his unique stage craft and content to be amongst the best.
Both acts after the signing out-doored their new single under their new management, titled "My Bestie" by Abochi and "Over" by Dede Supa.
Source: Ghana/Starrfm.com.gh/103.5FM