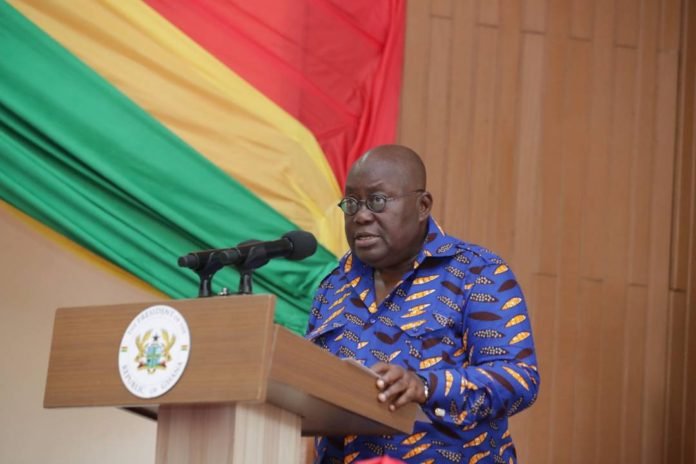 President Akufo-Addo says his administration will continue to support efforts aimed at equipping Ghanaians to acquire skills through informal education in order to boost their skills and develop their leadership potential.
In his remarks to attendees of the Head of State Award Schemes Gold award presentation ceremony at the Jubilee House under the theme, "Enhancing Youth Employability through on-formal Education", President Akufo-Addo said "there can be no dispute about the need to educate formally our children in persuit of academic knowledge. However, not all Learning occurs in the classroom".
"Many are now recognizing that education delivered informally plays a key role in enhancing the confidence, competences, skills, and opportunities for young people" President Akufo-Addo said.
The Head of State's award scheme according to President Akufo-Addo, "provides such life changing experiences for all young people boosting their skills and developing their leadership potentials. It equips, empowers, connects and transforms the lifes of our youth as well as illustrates various ways of integrating employability skills into core academic and vocational training in a more exciting way".
Award Winners
In all, one hundred young people between the ages of 16 and 25 years who have successfully completed all four sectional requirements plus the residential project of the Head of State award scheme within a 12 to 18 months period were awarded by President Akufo-Addo.
"To the award winners, accept my hearty congratulations. Your talents, conduct and efforts have been acknowledged. You have become the light of your communities and you have thus ensured that your light shines always" President Akufo-Addo said to the award winners in his remarks.
Special Awards
Special awards such as Honorary, Volunteer Leader's, Operating Centre and Coordinators' awards were given to trustees, donors and supporters who consistently support the work of the award scheme in Ghana and beyond in cash and kind. Among those who were Honoured are the CEO of the EIB Network Limited, Nathan Kwabena Anokye Adisi (Bola Ray) and CEO of TG Holdings Richard Yaw Addo.
The Award Scheme
Non-formal education focuses on developing the wider 'soft' (or life) skills which help young people ensure they are ready for the world. When paired with a formal education, it provides a fantastic foundation for a young person to thrive. The Head of State Award Scheme encourages young people to develop the character, skills and confidence they need to improve themselves and their communities, by encouraging them to step outside their comfort zone and build positive habits that they will take with them for the rest of their lives. With the support of adult mentors, the Award helps young people to unleash their passions and believe in the power of their own potential. Through the Award, young people can be empowered with not just the confidence but the desire to create meaningful change; to find their purpose, passion and place in the world.
Source: Source: Ghana/Starrfm.com.gh/Wilberforce Asare