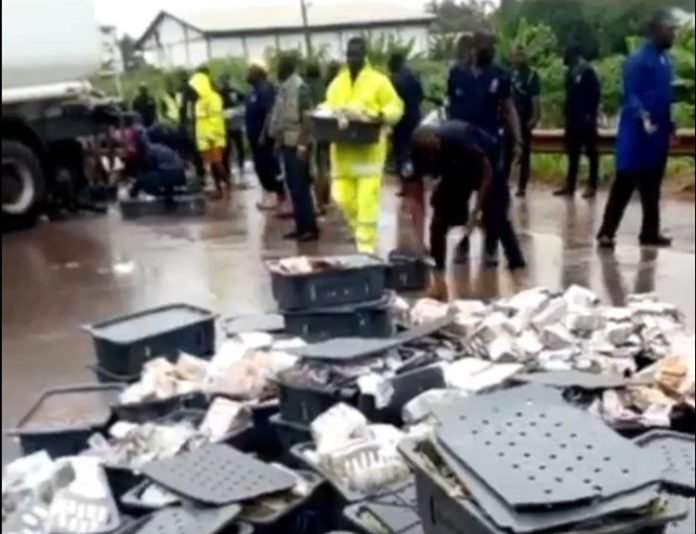 Security analyst Adam Bonaa says it is archaic for policemen to be still escorting money in bullion vans in the country.
The coments comes on the back of the killing of a policeman who was accompanying bullion van accompanying money belonging to ADB bank branch at Sewhi Wiaso in the Western North region.
The armed men opened fire killing the officer instantly with the driver and the other passenger escaping unharmed.
Commenting on the deveopment, Mr. Bonaa said: "Why should police officers in the 21st century be escorting money, this was done in the 18th and 19th centuries. No serious country does that, you don't use State resources to escort money. Technology has made it possible to use armoured fit for purpose bullion vans and this bullion van usually have what is called money shredders and so if you attack a bullion van that was in motion carrying money what happens is that this bullion van ignites a chemical component that spills over this money and the chunk of the money gets shredded, It means that this money basically becomes useless. But today as we speak we still have police officers who are losing their lives, police officers who have been ambushed over the years".
He stressed: "So I'm calling on the Governor of the Bank of Ghana instead of producing bigger denominations for us which we don't need anyway, spend that money in procuring fit for purpose bullion vans to save lives. It is unfortunate, no one should die because you're escorting money. Serious countries will not use their police officers who are supposed to be providing security for the indigenes to be following monies. These monies should be insured so that when there's a disaster the insurance company pays for them worst-case scenario. So can we take police officers off this kind of duty."
Source: Ghana/Starrfm.com.gh/103.5FM