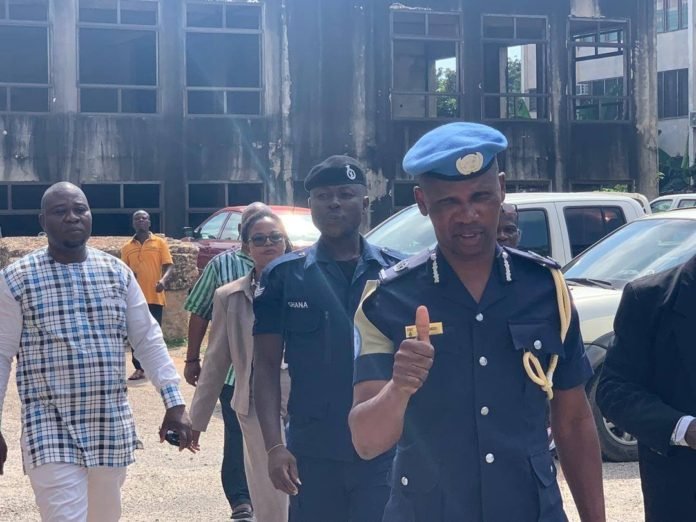 Cephas Agordzo, a brother to the embattled police officer ACP Dr. Benjamin Agordzo, has confirmed that his brother ACP Agordzo has been released from police custody Thursday, January 23, 2020.
His release comes two days after he was granted bail by a High Court in Accra.
"It was today, this morning around 11:00 am that they took him to the court that he signed his bail bond. You know the case itself is at Kaneshie court so from the high court he went to the Kaneshie court and then from there he came back, took his things whatever he had there, took them and as I speak to you, he is on his way home," ACP Agordzo's brother said on Starr Today.
On Tuesday, the High Court granted him a self-recognizance bail to the tune of GH¢500,000 with an order that he deposits his passport at the court's registry.
However, he was still held in police custody, following the ruling, despite calls by the court to the police administration to enable him to sign his bail bond.
Mr Cephas Agordzo expressed regret that the police administration still kept his brother in custody at the Police Headquarters despite the court's ruling.
"He wasn't happy with the situation because we believe in the Rule of Law. For a competent High Court to give a ruling and an institution disobey the ruling, he wasn't happy, his lawyer wasn't and the family wasn't happy either," he said.
He added the police had failed to explain the reason behind its action.
ACP Agordzo arrested over his alleged involvement and contribution to the 'Take Action Ghana' group which the State claims had devised a detailed plot to destabilize the county.
Since his arrest, he was on several occasions denied bail by the High Court.
Source: Ghana/Starrfm.com.gh/103.5FM/Sosthenes Senanu Nyadroh