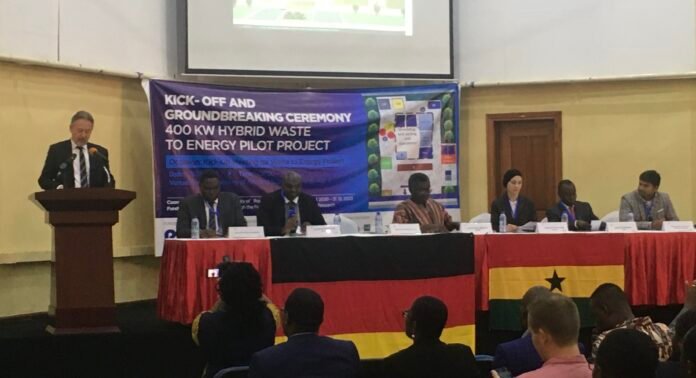 The Government of Ghana through the Ministry of Environment. Science. Technology and Innovation and in collaboration with the West African Service Centre on Climate Change and Adapted Land Use (WASCAL) has signed a $5.7 million agreement with Germany to construct a 400kW waste-energy plant in Kumasi.
This is to improve waste management in the country in the Renewable Energy Project on Waste-to-Energy under the funding support.
The project will not only create jobs for Ghanaians, but also curb energy and sanitation challenges as well as encourage replication of the project nationwide. Through this, Ghana will be fulfilling its mandate in the Nationally Determined Contributions on SDG's 7 on ensuring access to affordable, reliable, sustainable and modem energy for all and goal 13 on climate action.
The overall aim of the project is to through research and development and capacity development, develop concepts for waste segregation and the conversion of various fractions into energy by using biogas, pyrolysis and solar PV plants.
Additionally, the project also seeks to create business models to successfully replicate and propagate this model in 10 different regions in Ghana.
The project team brings one of its kind research and technologies combinations to Ghana in supporting and enhancing the sustainable waste management.
The German ambassador to Ghana Christoph Retzlaff speaking at the kickoff meeting and media engagement for the project, in Accra Tuesday, described this pilot project as only a start.
He said "and this is only the start: once we have demonstrated that our pilot plant is working, we will move beyond Kumasi. In the next 20 years, we can build and operate 10 further large scale plants (1-5 MW) in Ghana."
"This is our contribution to clean air and waste-free streets in Ghana, as well as to supplying Ghanaian farmers with fertilizer and to the creation of sustainable work spaces. 1000 jobs could be created and 800.000 tons of emissions would be eliminated each year," he indicated.
Mr Retzlaff added "I would like to stress, how strongly the cooperation as partners for the "Waste2Energy" project has impressed me. We are working hand-in—hand."
According to WASCAL, the project is expected to improve sanitation by converting the ever-increasing municipal solid waste into energy for productive uses and contribute to sustainable industrial development.
It will train high level local experts in waste management and waste treatment technologies, transfer proven waste treatment technologies in use in Germany to Ghana and build capacity of local experts to design, construct and maintain a hybrid waste to energy facility.
Also, it will install a novel hybrid waste to energy treatment facility in Ghana that combines solar PV, biogas and pyrolysis technologies to treat and generate power, create opportunity for German Small Medium Enterprises to take advantage and extend their products and services in the area of waste to energy plants to Ghana and create sustainable employment in the communities.
It will among other things provide blueprint for the propagation of 10 additional waste to energy facilities in Ghana, contribute to Ghana's climate change mitigation strategy, contribute to the inclusion of renewable energy in Ghana electricity production mix and contribute to increasing access to electricity in Ghana.
Finally, the project will involve organizing workshop in both countries and enhancing knowledge exchange between Ghana and Germany and building a long term collaboration between public and private sectors in Germany and Ghana.
Source: Ghana/Starrfm.com.gh