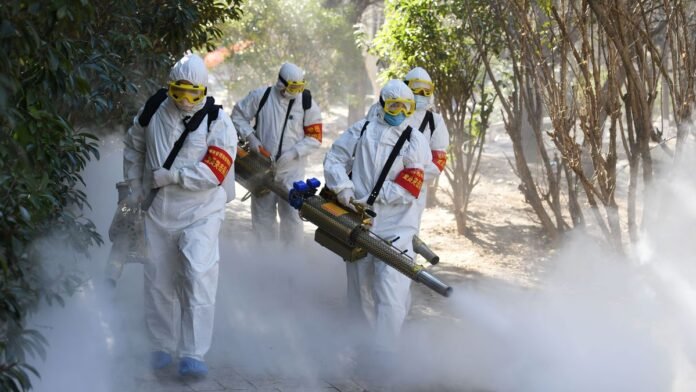 I've come across views that the media is blowing the Coronavirus pandemic out of proportion. People are recovering and the deaths are not so many. I used to think same too till I realized that the systems we operate here suggest we have a more complicated situation on our hands.
I live on a continent where lives of human beings don't mean so much. Don't get me wrong. I'm a Ghanaian. However, it's clear beyond reasonable doubt that we don't value lives. Our actions and inactions betray us. And here's why.
Barely two weeks ago, a gory accident occurred on the Kintampo – Tamale stretch, claiming over 30 lives with many of the dead charred beyond recognition. By the way, this wasn't the first road accident of such magnitude on that stretch alone.
In other parts of the country, notable places like Teacher Mante, off the Accra Kumasi highway were busy harvesting lives to the other side. Did I forget the Winneba stretch? That stretch alone has done a good job claiming a number of lives.
Within the first quarter of 2020, the nation has already recorded 400 cases of road accidents. These deaths exclude those related to malaria, maternal mortality and other factors.
As usual, the response to the recent road accidents was eruptic yet left much to be desired. The Bono regional minister moved in swiftly to the accident scene. The police and MTTD were quick to clear the road to allow for traffic. Or should I say to make way for more carnage? Let's also not forget that over 50 people had died along that stretch some 2 years before.
Shortly after the visit to the hospital where the injured and dead were placed, the much awaited symphony begun. From the Regional Minister through Members of Parliament to experts on road safety, the rehash of "could haves" was reminiscent of the days after songstress Ebony died. Albeit the same junction which killed her claimed other lives barely 24 hours after.
But as quickly as the news cycle changed, and with a people not angry enough to demand accountability, the debate was yet again lost to the echelons of historical antecedents. Without a doubt, the innocent blood of the deceased would never be atoned for. Like a ritual, the chants of endless blames would be birthed again when our roads feast on more lives.
While trying to wrap our heads around the storm of road accidents staring us in the face, another menace catches us by surprise – unprepared. Knock knock! Who's there? It's Coronavirus! If you're a good player of the "knock knock" game, you'd know the next question would be, Corona who? And we all chorus, "Corona Virus".
The global pandemic has caused a massive stir across all countries with cases expected to rise. Economies like that of Italy have been almost brought to their knees with the country in self-quarantine. Health experts are predicting over a hundred thousand new cases in the US alone. And though it is all gloomy, the recovery rate of persons who contract the virus looks very impressive. More than half the people who contract the virus have recovered with the death ratio below 10 percent out of the over 150 thousand cases recorded globally.
One may then ask "What is the fuss about?" Unlike us here in Africa particularly Ghana, there is a seeming expressive concern for human life. Statistics on road accidents in countries like Finland and Norway indicate a genuine and conscious effort to reduce fatalities on roads as much as possible. Let's face it, it won't be business as usual if 10 people die as a result of a road crash in any of these advanced countries talk less of a daily occurrence with accident Hotspots dotted around the country.
Whether it be institutions or deliberate leadership, Europe and the West have showed an immeasurable commitment to protecting human life. We've seen America go to war after 9/11. The UK was recently engaged in a diplomatic row with Russia over the death of a spy. Germany as of today is still evacuating its citizens from Corona virus stricken countries. The big question is what happens if it's a Ghanaian? As if it is not enough, Ghana's finance minister on Tuesday announced the additional 100 million dollar funds touted by the president, Nana Addo Dankwa Akuffo Addo is not ready. When journalists were already asking questions on how the funds were going to be allocated, there was no funds to start off with.
Human death should not become an acceptable phenomenon. It should for no reason become a norm. Therefore if 1000 people die from a disease, it most certainly is a human crisis that requires the utmost attention. Same however cannot be said for us.
What then do these say about us? We love the funerals rather than have the people live.
Written by: Eric Egbeta
The writer is a journalist in the Komla newsroom at Starr FM. The views expressed in this article are that of the writer and do not represent that of the EIB Network.