Deputy Minister of Foreign Affairs and Regional Integration Mohammed Habibu Tijani has welcomed Ghana's selection as Honouree Country of the annual Memphis in May International Festival (MIMIF) to be held in the USA in May.
He noted that the feat meant that during the month-long celebrations, Ghana will be projected and afforded the opportunity to promote her rich arts and culture, tourism, cuisine, investment opportunities and Made-in-Ghana products in the city of Memphis (in the United States),
He also announced selected Ghanaian participants, celebrities and itinerary for the event
He made these remarks during a press briefing held at his ministry, attended by an advance team of a 10-member delegation out of the expected 44 from the city of Memphis, Tennessee, United States, led by Mr William Weaver, Executive Vice President and Chief Financial Officer of MIMIF.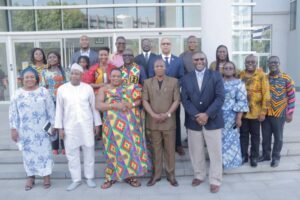 Also, in attendance were the Deputy Minister for Tourism, Arts and Culture, President of the Ghana Chamber of Commerce, among other dignitaries.
In announcing the selected participants, Mr Tijani said "the organisers of Memphis in May International Festival have recognised the creative abilities of some of our young music talents and have selected Sarkodie and Stonebwoy to perform at the Beale Street Music Festival. Work is also in progress to select a Highlife musician to perform as well."
"The Ghana Dance Ensemble, put together by the National Theatre of Ghana, will perform at a special cultural show, and in schools across Memphis. A Ghanaian chef will also present some Ghanaian delicacies to the people of Memphis at a show named "Cuisines of Ghana". Two more chefs from Ghana Barbecue Association will also compete in the World Championship Cooking Contest. Furthermore, a long distance runner from Ghana will compete in the Great American River Run," he noted.
He went on "in the field of art, pieces from the National Museum and Artists' Alliance Gallery will be on display in prominent museums in Memphis. A performance on Ghana's Slavery Resistance, put together by Institute of African Studies, will also be aired in the National Civil Rights Museum in Memphis. Selected Ghanaian films to be screened at the Cinema of Ghana Indie Memphis series are; The Burial of Kojo (2019), Sinking Sands (2010), Beasts of No Nation (2015), Potato Potato (2017), -111(1 Kukurantumi: The Road to Accra (1983)."
He also announced that in a bid to help Memphis youths appreciate Ghanaian culture, all public, private and home school teachers in Memphis began using the curriculum of Ghana in January, 2020. "Equally, ten (10) students from some second-cycle institutions in Ghana will take part in the Festival's award-winning International Student Exchange Programme in Memphis. Ghana will also host a similar number of students from Memphis," he indicated.
On trade and commerce, Mr Tijani established "furthermore, Ghanaian technocrats in the fields of trade and economic policy, information technology, life sciences, logistics, and architecture will be given platforms to address various Memphis groups during the Economic Development segment of the Festival. This will allow for the establishment of business and professional relationships between the peoples of Ghana and Memphis."
"As you are already aware, great majority of chocolate consumers know little, if any, about the cocoa value chain. This Festival will present the opportunity for the Ghana Cocoa Board to hold a display of Ghana's cocoa value chain, dubbed "The Cocoa Village". This will help the city of Memphis and its visitors to have a firsthand experience of the long journey of the chocolate bars they enjoy."
In all, about forty (40) Ghanaian selected participants will have the opportunity to be sponsored by the Festival organisers.
The Deputy Minister encouraged compatriots in the USA who can make it to Memphis to participate fully in the festivity." I believe that this will not only be a massive celebration, but also an opportunity to forge long-lasting personal friendships and business relations," he ended.