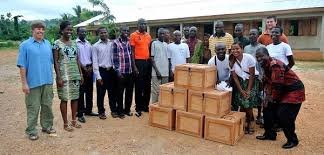 The Ashanti Regional Health Service has sounded a word of caution to students not to  indulge in any social gatherings as schools close down.
The President on Sunday evening announced new measures being adopted to avoid a spread of the coronavirus after Ghana confirmed six cases.
According to the President's directive all Universities, Senior High and Junior High schools must be closed from today March 16 and are to do distance learning.
Addressing a news conference, Regional Health Director, Dr Emmanuel Tenkorang encouraged his constituents to take out the element of fear of the virus.
He said "nobody should fear, because the moment fear sets in then our preventive efforts  will be a problem for us. So there's no fear, there's no panic especially the health care workers and the general public."
"What we need to do is to be very strong, bold and courageous so that we can address it. It's in the country but I believe that with all the preventive measures that we've put in place, what the President has done and what the Health Ministry is doing, if we put all together, it will work for the good," he noted.
Charging students, he said "but the students who are going home, let's make sure that we go and stay in our houses and use the opportunity to study further and then we don't go out when its not necessary to go out. Because its the various movements that will actually spread the condition, so stay at home, study and that will be better for you."
"Lets us continue to pray together and I believe that God's mercies will be on us. And these six cases that we have will not spread to any other person as we continue to monitor the contacts," he ended.
Source: Ghana/Starrfm.com.gh/103.5fm