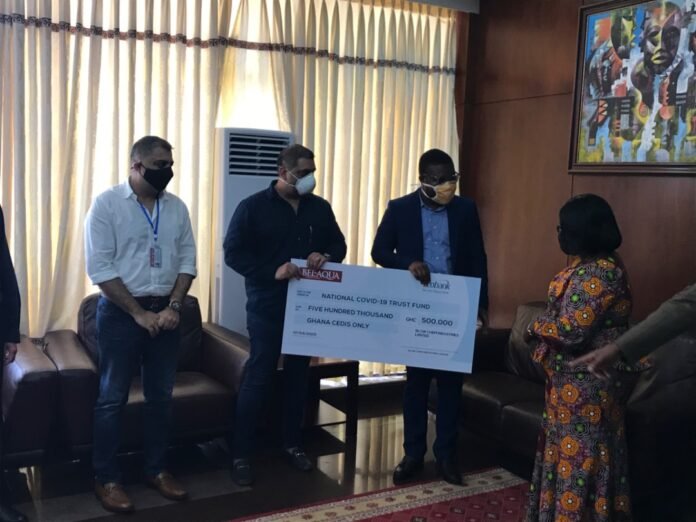 Belaqua, a leading drinking water service company and a subsidiary of the Blow Group of Companies has donated five hundred thousand Ghana Cedis (Ghc 500,000.00) to the Covid-19 National Trust Fund, as their contribution towards Government's fight against the novel Coronavirus.
Emmanuel Quist, the Communications Director of Belaqua, before presenting the cheque to the Chief of Staff at the Office of the President noted that Belaqua is impressed with the matured way government has handled the Covid-19 crisis thus far and their instant contribution is just one of several support programmes they have put in place to assist in the country's fight against the spread of Covid-19.
Leadership of Blow Group
Mr. Dhiraj Lakhiani, Chief Executive Officer, of the parent company of Belaqua, Blow Group of Companies and Mr. Manoj Lakhiani, Chairman, Bel-Aqua led the delegation to the seat of the country's Presidency to make their donation to the fund.
The Chief of Staff
The Chief of Staff, Madam Akosua Frema Osei Opare, on behalf of the President of the Republic, Nana Addo Dankwa Akufo-Addo, registered the appreciation of the state to the owners, management and staff of Belaqua for their show of support for the people of Ghana is such difficult and uncertain times. She noted that the trustees of the fund will move into full gear with their work soon and they will do all within their power to ensure that the donated monies are used judiciously to support the needy and vulnerable in the country.
The Blow Group
The Blow Group of Companies was founded in 1993. Since then they have pursued an unstinted path of growth despite national and international competition. Growth with a social conscience has been their motto. Blow Group's long-term goal of building a global, multi-product, multi-brand company is now becoming a reality. Blow Group provides full service to virtually every industry in which customized flexible packaging is used: food, pharmaceutical, chemical, textile, airline, railroad, utilities and construction companies, in addition to agricultural, retail, asbestos abatement and medical waste industries, Blow Group has two manufacturing sites with a total built up area of 80,000 square meters, having over 1,300 workers, modernized workshops, advanced facilities, professional technological talents and management systems.