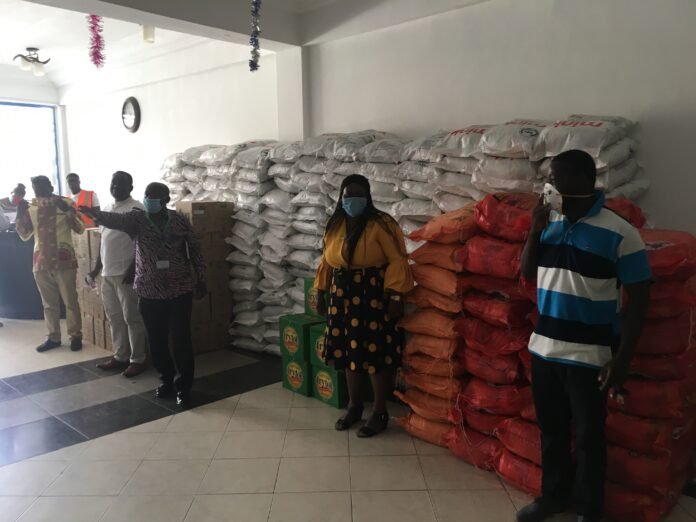 MCE for the Ayawaso West Wuogon Municipal Assembly Sandra Owusu-Ahinkorah has lamented over the discouraging rate of donations coming to the assembly to support the vulnerable in the area, considering the current partial lock-down of Greater Accra and Greater Kumasi.
Ayawaso is known to be one of the elitist communities in the country as it covers communities such as East Legon, Dzorwulu Abelenkpe, Roman Ridge, Airport Residential Area, just to mention a few.
The MCE is, however, discontent as little or no efforts have been made by wealthy individuals and organisations in the municipality to support the assembly in its quest to provide relief to its vulnerable constituents.
She said most of the donors are concentrating on giving at the national level but should know that 'charity begins at home' calling on her 'rich' constituents to help.
Mrs Owusu-Ahikorah made this call when the assembly gave out some 200 bags of rice and 200 boxes of vegetable oil to assembly members to be distributed to the needy in four electoral areas of the municipality.
She said "seriously I was thinking this is a first-class municipality, but I am really shocked at some of them, their behaviours. Yesterday we were going through the NGO list, calling them, nothing. You can't blame them, they also have families, they have people they are also reaching out to. But we are pleading with them to please come and help us. They live here and their charity also begins at home. "
On the donation, she said "I think as an assembly we also have to reach out to our people, our less-privileged in the community. We can't sit here and say we don't know what's going on. We can't wait for the president or the gender minister, charity begins at home and we are going to also take a step to reach out to the needy in our communities."
"We have a priority list. We are starting with the LEAP participants, we are going to their homes today. Secondly, the PWD's who can't come out, who are in need of food, we are going to them. Third on our list is our assembly members. They are with the people, they live with them," she noted
She ended "we know by doing this, other private sector within our municipality will be watching and will be moved to rather donate more items to the assembly."
Assemblyman for South Dzorwulu electoral area David Kofi Mensah touching on how he will adequately deliver the items noted "I have been in the community for sixteen years and I know people who are really needy who can't afford three square meals a day. "
"I have a data that I'm going to use, and based on the data I am going to give this items to my electoral area people."
"I'm told that each assembly member is going to get 50 pieces of a mini rice, so I'll be able to reach 50 people. But every day I give about 200 or more packs of food that is already prepared for the people. So this one is going to target specific families, especially the widows, etc," he added.
Source: Ghana/Starrfm.com.gh/103.5FM