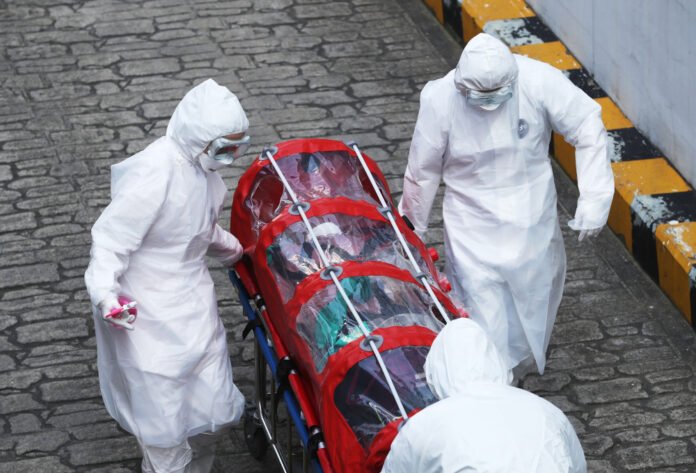 A pharmacist and fellow at the Centre for Democratic Development (CDD) has challenged claims by the Ghana Health Service (GHS) that Ghana is at its peak of infections with regards to COVID-19.
According to the Kwame Sarpong Asiedu, Ghana's cases are now spiking with an even more dangerous trend of infections which will not flatten anytime soon.
Speaking to Starr News Tuesday, the CDD fellow said there is more work to be done to get hold of the virus in the country.
"Until and when we are able to move the spread from polynomial, we are nowhere near the peak. The rate at which our cases are jumping does it look like we are approaching a peak? Look at the significant jumps over the last few days; I do not even think we should be having such conversations now. The acceleration is so huge," the pharmacist warned.
He stressed: "There is no basis to even talk about our peak, We are not even anywhere near plateau. And that is based on the evidence available".
The comments come after Director of Public Health at the GHS, Dr Ebenezer Badu Sarkodie, said Tuesday that nation is at its peak of infections.
"We are not out of the woods yet. We are at the peak of the curve, but yet to come down, and we urge Ghanaians to adhere to the preventive measures put in place so that we can see an early decline in infections".
COVID-19 cases in Ghana have seen a staggering jump from 2,169 to 2,719 within two days.
This means 550 more cases have been recorded since Saturday when the last update was made.
According to the Ghana Health Service, the Greater Accra region still leads with over 2000 cases.
Below is the regional breakdown
Greater Accra Region – 2,332, Ashanti Region – 124, Eastern Region – 94, Central Region – 38, Volta Region – 30, Oti Region – 23, Western Region – 21, Upper West Region – 19, Upper East Region – 19, Northern Region – 13. 
Meanwhile, the Korle Bu Covid-19 treatment centre has successfully treated and discharged all seven patients who were on admission there.
Source: Ghana/Starrfm.com.gh/103.5FM