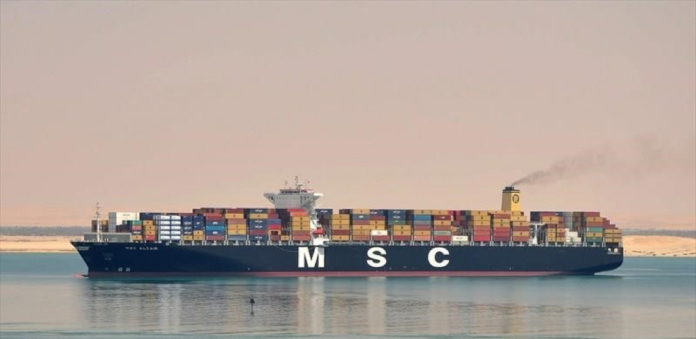 On Friday, 15th May 2020, Meridian Port Service (MPS) reached a new level of container handling productivity on vessels by exceeding the symbolic gross 100 moves/hour.
MSC Altair berthed at Terminal 3 of Tema Port declaring the total throughput of 4,344 TEUs (Twenty Equivalent Units) to be discharged and loaded. The Terminal Operations were completed with 3,290 crane moves in 29.5 hours, breaking a new record of 111.4 moves per hour against 103.9 recorded in December 2019. This is the all-time record for Terminal 3 at Tema Port and certainly by far the best in West Africa.
MSC Altair is one of the large ships in a fleet of Container Vessels deployed on a weekly service into Ghana called AFEX (African Express) following the successful completion of MPS Terminal 3 at Tema Port. She is able to carry a capacity of 13,100 TEUs. Her length overall (LOA) is 366.46 meters and her width is 48.26 meters and Gross Tonnage 141,635.
The first sailing for the MSC AFEX service was from Xingang started in October 2019 with the MSC Ravenna vessel with total carrying capacity of 14,000 TEUs. Connecting Tema directly to several ports (Xingang – Busan – Gwangyang – Ningbo – Shanghai – Nansha – Shekou – Singapore – Colombo – Lomé – Tema – Durban – Port Louis – Colombo – Singapore – Xingang). This will not only offer faster transit time and better reliability in the West Africa region but also new business opportunities for clients between Far East, Oceania, Middle East, India, Pakistan, Sri Lanka and Ghana.
"We are proud to achieve this milestone with no incidents or accidents, respecting all safety protocols and for creating a worthy safety culture that safeguards all workers and company assets. "Definitely, we are motivated and prepared for improving our productivity levels and taking on the next challenge", the MPS Operations Management Team vowed.
"On behalf of the Shareholders, Board and Management of MPS, I would like to take the opportunity to congratulate the entire MPS team, especially the Operations Management, Supervisors, Planners, Equipment & Crane Operators, Truck Drivers and all the support team that worked the vessel," said Mr. Mohamed Samara the CEO of MPS.
Source: MPS