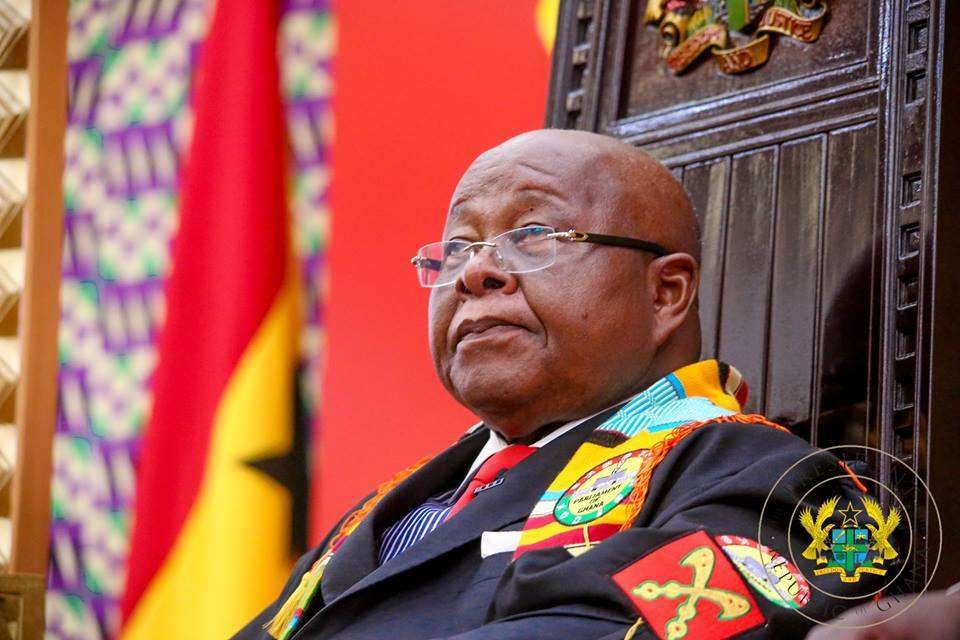 Thank you Mr. Speaker for your audience, and for this opportunity to address the house on the need for a TRANSFOMATIVE EDUCATION POLICY which will forever change lives of many Ghanaians. It is a good time to be a Ghanaian.
Before I continue my presentation, Mr. Speaker, permit me to sing this marching song we sang in 1992 when I was in Kindergatern at Christ Leading School, Wasa Akropong.
"Education is light let all have
Let all have sound education.(2X)
He who without sound education,
Will be a slave to others,
Education is light, let all have
Let all have sound education!"
Mr. Speaker, Ghanaians were over joyous when His Excellency the President removed the lockdown imposed on Ghanaians as a result of COVID19 pandemic.
Mr. speaker, that was because during the lockdown, we were limited with options of our Daily living and brought to our Knees like slaves.  Because of these restrictions economic activities came to a standstill. The threats of these precincts MOVED the president  TO do away with THE LOCK DOWN.  OUR OPTIONS WERE SO LIMITING THAT, any further extensions thereoff could have led to irreparable damages. STOCKS WERE RUNNING in OUT IN HOMES WITH NO HOPE IN SIGHT; NO END OF THE PANDEMIC IN SIGHTS EITHER. I join hands with all Ghanaians to salute this house and your very self Mr. Speaker, for the SPEED, CONCERN, AND LOVE YOU DEMONSTRATED IN PASSING THE VARIOUS BILLS THAT SOUGHT TO ALEVIATE THE HARDSHIPS on Ghanaians.
HOWEVER, IT IS WITH A HEAVY HEART THAT I PRESENT TO THIS HOUSE  THAT THERE EXIST a LOCKDOWN, more damaging cancer, restricting Ghanaians in OUR EDUCATIONAL SYSTEM. IT IS A LOCKDOWN!!!
Mr. Speaker, am referring to the RESTRICTIVE NATURE OF OUR EDUCATIONAL SYSTEM. THE PIPELINES of our educational system are so choking that DREAMS and ASPIRATIONS OF MANY HAVE BEEN shuttered with no hope in sight, no end to this pandemic.
Mr. Speaker, many Ghanaians feel locked down in life!
Mr. Speaker, many  Ghanaians feel they are in perpetual prison!
Mr. Speaker many Ghanaians feel being punished for no fault of theirs;
Many Ghanaians, Mr. Speaker, feel they are being punished for the choices of a program of study they chose:
When they were young a clueless of what that career path involves whiles filing the JHS school leavers form.
When they were clueless of what their parents, siblings and guardians were recommending as program and school for them
When their class mates were boasting about a certain school and a certain program of study for SHS.
Mr. Speaker, it is so sad that, WHEN WE WERE YOUNG and CLUELESS, we were FORCED TO MAKE A DECISION. WE HAD ALL THE OPTIONS, BUT GIVEN US once in a life time!
BUT it does appears like a lock down, more terrible to us that when we grew up and in a better position to choose, THE EDUCATIONAL SYSTEM GIVES us no options But PREDETERMINED PATHWAY FOR ALL OF OUR LIFE TIME!
It looks like a nightmare, for when we are no more influenced by friends, family, and others, we cannot choose or adjust drastically now!
It looks like prison, in a time when we know ourselves better, understand prospects and career, we cannot choose because the system has Predetermined our destination.
It looks like a daydream, when now that we have discovered our talents and abilities, we are denied from choosing who we want to be and our destination.
We are in this lock down situation for no fault of ours.
Mr. Speaker, you will be overwhelmed with examples if you ask about people who went outside our educational system to other countries and have become great surgeons though they studied General arts in Ghana earlier. Others have become engineers, nurses, pharmacists, etc… and in some cases of worldwide acclaim; Ask Dr, Adutum(Deputy minister of education) about the story of his friend.
Mr. Speaker, when they escaped the LOCKDOWN in our educational System, they became who they wanted to be.
Mr. Speaker, time will not permit me to recall the number of engineers who really wish to become Doctors; Nurses who wish to become Pharmacists; architects who really wish to be lawyers, and YET our educational system denies any attempt to switch over.
Mr. Speaker, the more heart breaking aspect of this pandemic in our educational system is the example the restrictions  imposed on the specific groups including drop outs at various educational levels; non literates youths and adults; out of school children; disadvantaged groups; women, the youth and the elderly, ex service men, etc.
There are several examples of such people who have hopes of obtaining further education from whatever level they may be, but the system has made it impossible!
Mr. Speaker these people are still locked down by OUR EDUCATIONAL SYSTEM.
It might interest you to know that some of them have some form of prior learning but our educational system does not consider them in any way.
Mr. Speaker I want to ask, why is it possible for those who bypass the system and go outside of the country are able to realize their dreams BUT NOT POSSIBLE IN GHANA-OUR MOTHERLAND?
Mr. Speaker, I want to remind you of a phrase in the marching song which says: "LET ALL HAVE SOUND EDUCATION!" Denying them as done by the system only breeds slaves.
LET ALL THESE PEOPLE GROUPS HAVE THE SOUND EDUCATION THEY DREAM OF by introducing "complementary education pathways from primary to tertiary levels."
Mr. Speaker I dare not begrudge anyone who posits that there is "NO FREE EDUCATION IN GHANA!" And that our current system only produces a certain kind of slaves (locked down people).
Mr. Speaker, the threat of this 'slaves producing system' is more harmful than that of the LOCKDOWN OF COVID 19, and COVID19 itself.
Therefore, Mr. Speaker, I charge this house as a matter of urgency and in the spirit exhibited in fighting COVID 19 TO REMOVE THIS LOCKDOWN IN OUR EDUCATIONAL SYSTEM NOW! Let us give meaning to the FREE EDUCATION.
Mr. Speaker, I humbly request you to consider this open letter as a MOTION FROM A LOCKEDDOWN GHANAIAN PARTICIPATING IN YOUR governance actively, but with the OPTIONS OF AVAILABLE TECHNOLOGY.
Mr. Speaker, consider all the above as emotional Screen Saver and NOW MAKE ATHENTION TO MY PETITION:
I hereby call on you, and this house to consider expediting action on the passing into law, THE COMPLEMENTARY EDUCATION AGENCY ACT, 2019.
The innovations demanded to eliminate the LOCKDOWN SITUATION in our educational system is embedded in the BILL.
Finally, kindly accept my profound appreciation to you, leadership of this house, and all well meaning Ghanaians who will join the fight in the frontline to removing this lockdown and ensuring EXPEDICIOUS ACTION ON THE PASSAGE AND IMPLEMENTATION OF THE BILL.
Please find below some excerpts of the Bill.
COMPLEMENTARY EDUCATION AGENCY ACT, 2019
Functions of the Agency
To achieve the objects under section 2, the Agency shall,
(a) provide functional basic literacy to disadvantaged groups;
(b) provide complementary education pathways from primary to tertiary levels;
(c) provide occupational skills training for different trade groups;
Etc.
MEMORANDUM
"The object of the Bill is to establish the Complementary Education Agency to provide for educational programmes outside the formal education system.
The Non-Formal Education Division of the Ministry responsible for Education has been in existence since the first Republic. The Division has been providing a range of programmes, relative to adult and lifelong education. However, the Government wants to ensure access to education in all forms, therefore, it has become necessary to enact legislation to establish an Agency responsible for Complementary Education to ensure the carrying out of the myriad of changes and innovations taking place in the field of complementary education.
The Complementary Education Agency aims to provide learning opportunities and complementary education for those who are outside the mainstream Ghanaian education system to equip them with requisite knowledge, skills and attitudes needed for their personal, community and national development"
Validation and accreditation of complementary education
 (1) The Agency shall, in consultation with relevant organisations,
validate and mainstream all forms of complementary education.
(2) For the purposes of subsection (1), the Agency shall
(a) take into consideration the knowledge and skills that a learner will gain outside a formal education system; and
(b) institute a mechanism to recognise prior learning for the purpose of
(i) certification;
(ii) qualification; and
(iii) progress within a lifelong learning framework.
(3) The Agency shall grant accreditation to a learning centre within
the National Qualifications Framework.
Source: https://www.parliament.gh/epanel/docs/bills/complementary%20Education%20Agency.pdf
Joseph Danso
The writer is a lecturer, youth worker and Transformative Education Advocate @ All Nations University. Koforidua (E/R)
Email: dansojosef@gmail.com Tel: 0268903634