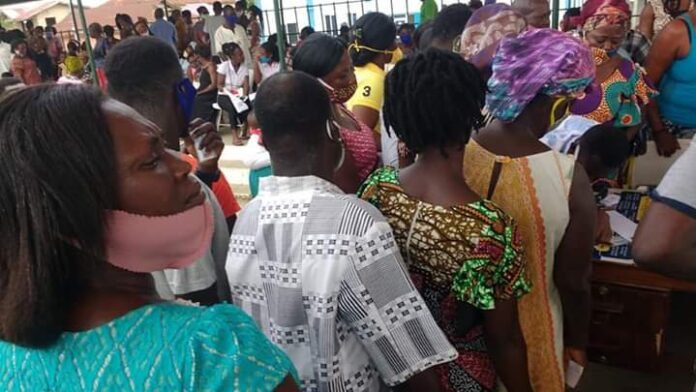 Hundreds of applicants on Tuesday swarmed the Koforidua Jackson Park to register for Tax Identification Number (TIN) with the Ghana Revenue Authority to enable them access the COVID-19 Relief Fund for SMEs.
The applicants were relocated from the GRA office after crowding the office on Monday, however, officials again were unable to control the crowd to enforce social distancing protocol.
Though majority of the applicants were wearing nose masks, the gathering of large crowd raises serious public health concerns with fear that it could spread coronavirus in the regional capital which has already recorded a spike in the number of confirmed cases which currently stands at 32.
President Akufo-Addo on April 5,2020 announced the establishment of the Coronavirus Alleviation Programme (CAP), as part of measures to effectively manage social and economic recovery in Ghana.
An amount of GH¢1.2 billion was subsequently earmarked towards its implementation. Out of this, an initial commitment of Six Hundred Million Cedis (GH¢600 million) was set out as soft loan scheme for SMEs in the country.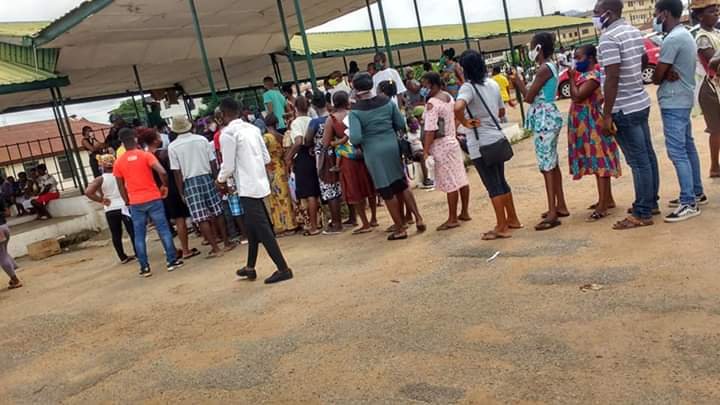 According to the National Board for Small Scale Industries (NBSSI), the main government institution in charge of implementing the programme, the interventions will be rolled out in the form of grants and soft loans, via participating institutions – banks, microfinance, mobile lenders, NGOs that, the amount and type of financial support provided will vary depending on the size of the enterprise, their need, and repayment capacity.
The soft loans will be for a period of 3 years, one-year moratorium and two-year repayment period.
One of the key requirements for eligible beneficiaries -Micro, Small and Medium Enterprises (MSME) is the TIN hence the rush to obtain it .
Coronavirus cases in the Eastern region have jumped from 214 as of Friday to 235 on Sunday, June 14, 2020, the Ghana Health Service has announced.
One more person has died of COVID-19 in the region bringing the total number of confirmed deaths to three(3).
The latest fatality occurred on June 12, 2020. The deceased was among patients on admission at Covid-19 treatment centre in the region.
The first death recorded was a Senior Police officer who died on May 29,2020, while a health worker also died few days ago.
Currently, eighteen(18) of thirty-three(33) districts/Municipalities in the region have recorded cases.
New Juaben South,Kwahu West and Akauapem North are the hotspots areas.
Source: Ghana/Starrfm.com.gh/103.5FM/Kojo Ansah