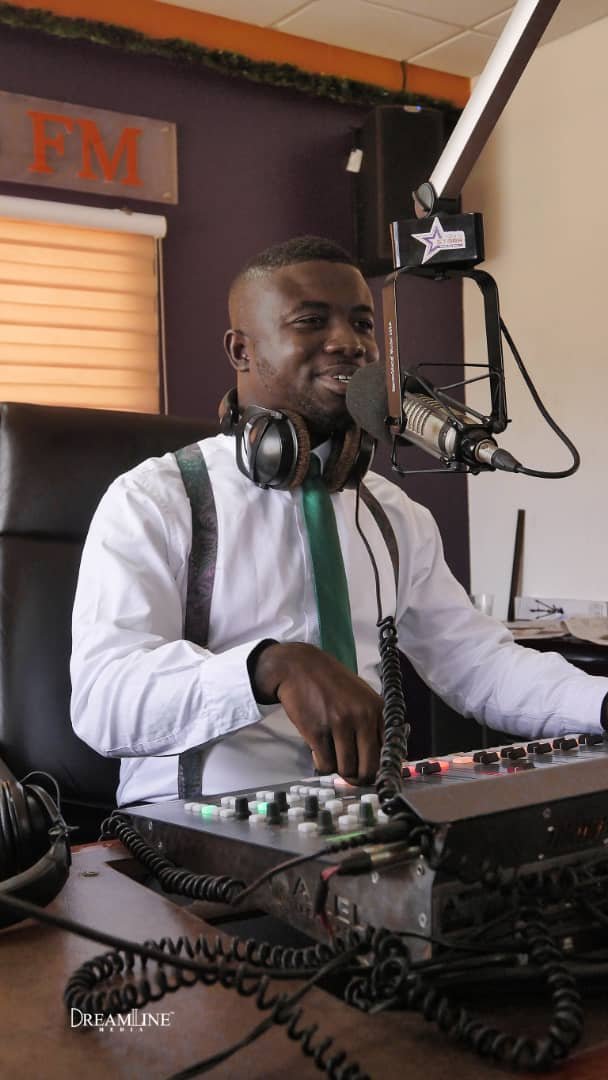 Ever-soothing Ghanaian media entrepreneur and young business magnate, Kwadwo Bonnah, known in the media space as K Bonnah, is the host of the late-night show 'Drop Off' (Monday to Thursday, 8:00–10:00 pm) on EIB's Starr FM 103.5. He also doubles as event MC on weekends.
"Kwadwo Bonnah is a name today, a legend tomorrow. I am a young man on a mission". Born to Mr. Sampson Bona of Ghana COCOBOD and Sarah Abena Dufie, a professional teacher, had his primary education at Holy Child School, Obuasi, in the Ashanti Region, and continued to Opoku Ware School where he became the Entertainment Perfect for his year group, due to his passion and love for creative arts. K Bonnah holds a Bachelor of Arts (BA) Degree in Economics and Information Studies from the University of Ghana.
Growing up, flying planes or counting money at the bank was never part of his aspirations. He says he always loved talking to people even at a very young age. At age 5, the young Presbyterian K Bonnah got an opportunity to MC his church's Children's Day event due to his contribution during Bible quizzes, and singing and recital competitions.
Reminiscing his childhood, he says, his daddy always made him listen to news on the radio, helped him read newspapers especially 'Daily Graphic' and watch 'GTV' news always, which aroused his passion for media. He grew up listening to the likes of Tommy Annan Forson, KKD, Komla Dumor, Kojo Oppong Nkrumah, Bola Ray, and Jon Germain before Senior High School.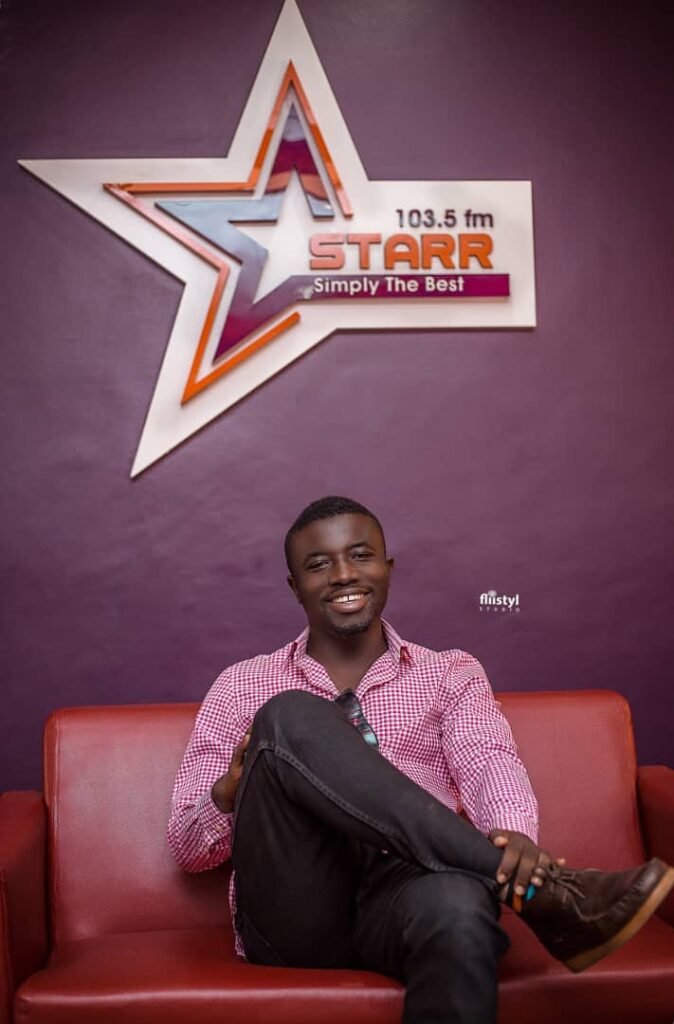 K Bonnah who is a Liverpool fan, got his first radio opportunity as a Sports Reporter during his days in the University of Ghana.  During vacations, he joined the team at Luv FM in Kumasi with entertainment updates and analysis.
"Thanks to Austin Woods for putting me on those days."
His mainstream radio career started when he walked into the office of the then CEO of Class Media Group, Nana Apea Nti, after he listened to his voice during the conversation, "all he said was bring your CV tomorrow and let's work. That is how I joined Class Fm. Desmond Lamptey was very helpful in those days. When I started Class FM, I was on radio from 12 midnight to 4 am, I would leave the house at 8 pm and get to the studio at 9 pm and wait till 12 midnight before coming on air. I used to walk from Accra Mall to Roman Ridge on a daily basis."
Aside giving his audience cozy night rides on the 'Drop Off' show on Starr FM, he doubles as the Marketing Manager for Peak Investment Capital, owners of Pinkberry Ghana (an ice cream company), Doughman's Food (a doughnut and burger Company), Richie rich gummies, and FulBeli Pork Foods. "This is what the majority of folks do not know. Man has to use the University certificate small. It has not been easy waking up at 6 am and sleeping at 12midnight daily. Emceeing on weekends and voice-over recordings. I have sacrificed sleep, happiness, relationship, and even the banking career my daddy wanted me to have to be here."
K Bonnah has hugely impacted the youth with his regular mentoring and advice especially to people who want to be in the media industry.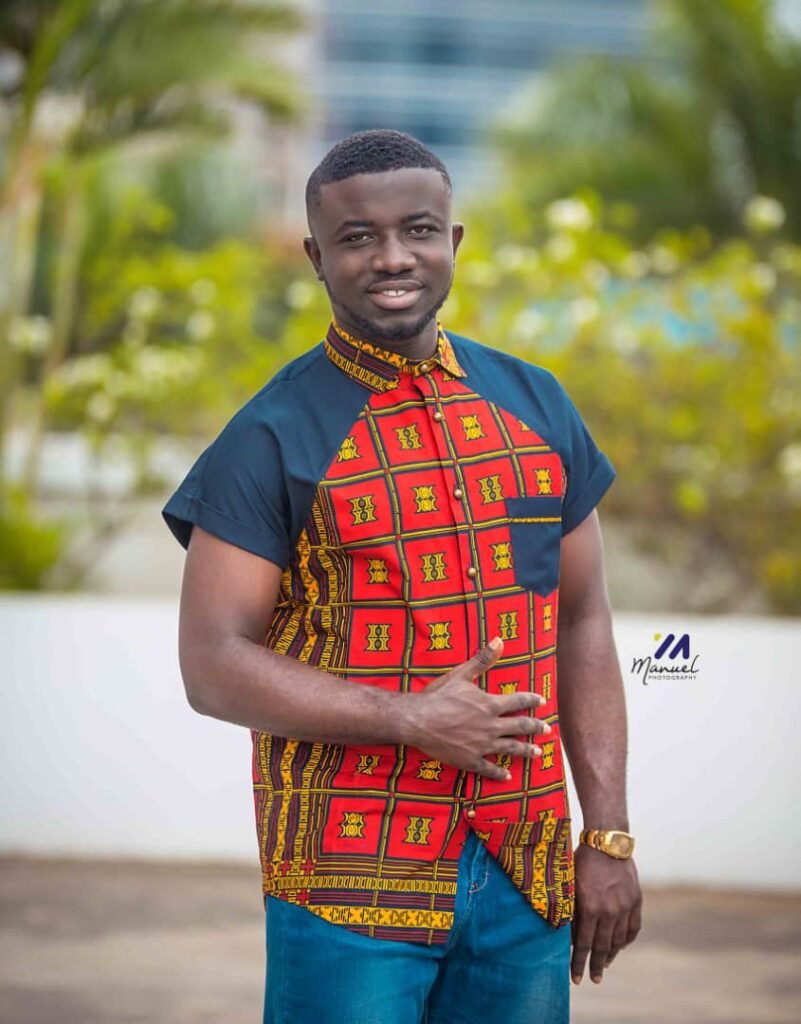 "Mentoring may be a powerful way to accelerate learning and boost leadership skills for any entrepreneur. We all need mentors to learn from. I try to get different mentors in different areas of life. I have mentored a lot of young talents from GIJ and other media institutions. It feels good whenever the knowledge you passed on, is being used excellently."
Sharing his experiences in the media industry, he recounted that, before he started radio, he felt radio was just about playing songs, talking, and getting paid with 'FAT cheques'. "I was totally wrong. To begin with, if you are looking at getting rich, then the radio isn't the profession for you. Trust me, the papers aren't that good. Again, before I come on radio, I do a lot of research before I open the microphone. It's not just about the songs, people need to be educated and entertained differently and how do you do that every day? You need to bring something different. It demands a lot of work."
Attaining success Bonnah says has been his paramount dream. According to him, one factor that has caused his growth in the industry has been 'Patience and Persistence'.
"Have patience, be persistent, and never stop learning. This should help. The rest are subsets."