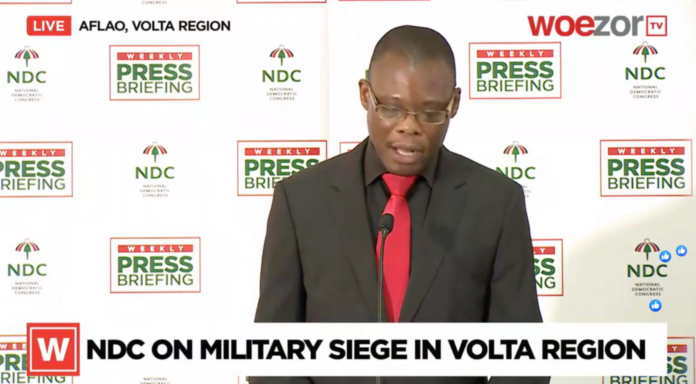 The National Democratic Congress says the massive deployment of soldiers to the border towns of Volta region is one of the several desperate means the NPP government is employing to hold on to power.
According to the opposition NDC, the animosity, hatred and discrimination against voltarians by the NPP has gone on for long.
The party added that the real reason behind this massing up of military and other security personnel in the Ketu South and other towns of the Volta region is part of NPP's perennial discrimination against the people of the Volta region.
"The bottom line is that as far as the NPP is concerned, the people of the Volta region are foreigners; The Ewes are not Ghanaians. People who do not know might be surprised about this statement but let us do a systematic elaboration to establish this beyond any doubt.
"This show of tribal hatred did not start today. The Nana Addo government is only taking it to a whole new level. This deep seated animosity comes from a sense of entitlement- the belief that because they are "superior Ghanaians", all others who do not share their political perspective must be deemed ineligible so that the political fortune of Ghana would remain exclusively in their hands."
Addressing the Press Monday, Member of Parliament for Ketu South, Fifi Kwetey stated that "It is high time the NPP family were told once and for all that, the fact that they never once won any election against Kwame Nkrumah had nothing to do with foreigners. Nkrumah was beloved by most of the people of Ghana and won elections freely and fairly. The founder of the NPP family, JB Danquah could not even win one election in his lifetime.    Instead of addressing why their political group has for the most part lost most elections, the NPP chooses rather to direct their venom and hatred towards innocent groups and accuse them of being aliens.
"It will be recalled that this was the biggest reason that the NPP family introduced the Aliens Compliance Order in 1969- a wicked legislation introduced by them when they finally won through manipulation the 1969 elections after orchestrating to have the CPP banned. What cowards and manipulators they have always been!
"It is high time the NPP family were informed that their humiliating electoral loss to President Rawlings in both the 1992 and 1996 elections, had nothing to do with foreigners from Togo. The Volta region together with 8 other regions voted for President Rawlings and the NDC in both 1992 and 1996. This was an overwhelming support in all the regions of Ghana except one. Infact there is no previous election the NDC has won in Ghana that the party did not win at least 8 of the 10 regions."
Source: Ghana/Starrfm.com.gh/103.5FM