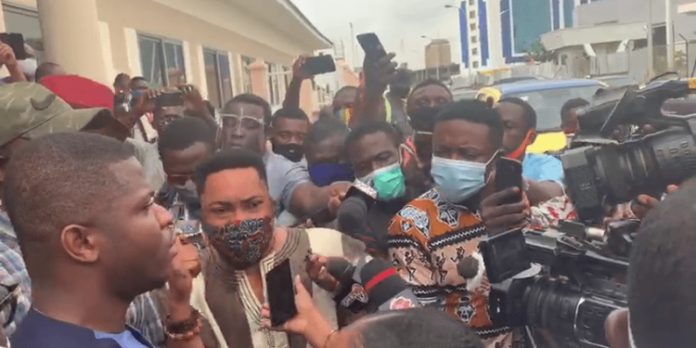 Some leaders of the opposition National Democratic Congress including former Trade Minister Dr. Ekwow Spio-Garbrah and Isaac Adongo clashed with security officers at the Tema port as they toured the facility to engage frustrated freight forwarders.
The Security officers physically pushed out the NDC officials who were addressing freight forwarders at the long room of the port.
Importers who usually spend a few hours in clearing their goods now have to spend close to two weeks at the 'long room,' blaming the situation on the inefficiency of the new UNIPASS system.
The Integrated Customs Management Systems (ICUMS) was deployed by UNIPASS at the Tema Port following a successful simulation in May this year.
The new system management was taken over from GCNET and West Blue.
The NDC has warned that there will soon be high cost and shortage of goods if challenges of the clearing system are not resolved.
Some of the freight forwarders have been left stranded because of the challenges.
A freight forwarder told Starr News' Emmanuel Gblikpo during a tour of the port by the opposition NDC today "their system is not working, they are using manual. And the thing is if you go to the shipping line, you will come here and they will tell you the list hasn't come because they'll send it through the mail and if the mail hasn't reached, they cannot raise invoice for you to pay."
Another importer who lamented in the same vein said "that is the problem we are facing right now. Some have been here for more than three days. I came here around 6, they gave me number 3, up till now I don't even know where I am standing."
"At the end of the day, your importer will call you and be giving you pressure just because of something he is not aware of. When they are outside they know everything is well and running."
Dr. Spio-Gabrah who addressed freight forwarders said that Ghana has been selected to host the African Continental Free Trade Area adding it meant Ghana's port and import system should be one of the most efficient on the continent.
He said "so, anything that deprives us of revenue, anything that makes clearing of goods inefficient and hazardous. Anything that will not make Ghana number one import/export destination in Africa, is something that we should all be concerned about."
"You don't need to have all the details of what is happening, you must see with your eyes the confusion that is physically facing Ghanaians who have goods to clear. And whatever the technology that is not working, whatever the administrative lapses that are not making it possible, whatever the financial implications, Ghana is the loser."
He added that "so, we want to go to a position where the loses that are being incurred by the government by all of us as a country and by importers and exporters. Because if it takes two weeks or more for goods to leave this port, that is a cost to all of us, cost to economy, cost to importers, higher prices for all of us consumers as, you are going to buy your items."
"So, this time of Coronavirus when things must be more efficient we cannot allow things to be less efficient when all of us are enduring difficulties because of Coronavirus".
Source: Ghana/Starrfm.com.gh/103.5FM