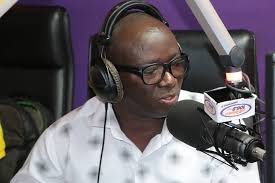 Nana Benyin Anumel stands out undoubtedly as one of the most celebrated radio personalities in the Ashanti region.
He spans over twenty years in the media industry working with Radio Gold, GROOVE FM, Kapital radio, Multimedia's Luv fm and now EIB's Ultimate fm.
Unknown to many. however, Nana Benyin has a rather dramatic and unsuspecting past which took a motorbike accident to turn him around to his current status.
A young boy who grew up in Laterbiokorshie; born to religious parents; attended the Most Holy Heart Preparatory School in Accra, was innocent in the eyes of his parents.
Oblivious to his father, a Catechist and interpreter at the Holy Family Catholic Church Mataheko, this boy who served as a mass server in the same church was in touch with wild gangs.
At a tender age, he had fabricated a spare key to his father's car and was driving on the blind side of his parents.
Nana Benyin had already begun taking interest in buying and selling clothing, narcotic drugs and other items of interest to youth.
He told Zion Felix in an interview, "I didn't grow up a good boy. I saw myself to be pampered. I was using a car at a very young age. At 16 I had a spare key designed by myself. I loved to buy and sell. A guy introduced me to drugs not to smoke but to make money out of it."
Nana recounted transferring to Accra High School after being suspended indefinitely from Accra Academy for threatening a student with a cutlass.
"I was in class with a cutlass we had used for weeding lying close to me when a boy came in misbehaving. So I picked it up to scare him like 'boys' boys' do. But unfortunately for me, a teacher happened to enter the classroom and saw the scene and no amount of explanation could save me because I had been reported for slapping someone before," he narrated.
Nana Benyin had later on in life begun doing Marshal Arts, weight lifting and rough cycle riding, partying and enjoyed a lot of good will from the Zongo communities.
The turning point came in when he rode out a motor bike that his parents didn't know he had.
"One evening I was leaving home to the gym. My mother asked where I was going. I signaled her with my hands I will be back."
"At the time I was into buying and selling dresses that I bought from Tema Station. I decided to go after a guy who had credited some clothes and was not paying. When I got to Adote's house a guy told me he wasn't home and directed me elsewhere," he went on.
"When I moved the motorbike, I didn't watch and I was already in a head on collision with a car. It flew me up high and landed me on the ground with deep wounds in my head, my back and my hands," he recollected.
While he battled for his life in the hospital, Nana Benyin was not informed that his mother who heard of the accident, in shock collapsed and was admitted in the same hospital
He admitted how the whole near death experience and how his church members came to pray with him; transformed his life and led him to Christ,"
After this rocky episode of life, he resumed his mass serving duties in the church and spearheaded a number of events to raise funds for the youth harvest of his church.
This dynamism which earned him a high rank among the mass servers caucus in the Greater Accra region also exposed him to his ability to commandeer events for commercial value.
He worked with FanMilk Ghana Limited for eight years and later resigned desiring a more challenging job that resonated with his rich natural creative juices.
Nana Benyin approached love fm at a time all slots except the night belt was virtually full with programs.
He inevitably chose the night belt and built a show around music intertwined with issues of youth empowerment, injustices in society and topical national issues.
Sooner than later, Nana Benyin had cultivated a huge listenership under the banner, the nocturnal Fraternity which went as far as mobilizing funds to support charity and other worthy distress calls.
He told the interviewer, "I did night radio for a long while before management of love fm recognized my abilities. I left off with private party and handling big events including the School Reunion reloaded, and Family in the park."
Nana Benyin is on record to have led events that brought Uncle Ebo White's stage plays and Kwaku Sintim Misa's stand-up comedy Show to Kumasi.
These events that were sold out saw huge attendance in an era that Kumasi was unfamiliar with such events attended with high priced tickets.
When asked why he left Multi Media for Ultimate fm, he indicated, I like changing things. I could change the position of my room furniture after every week and even go buy different fishes for my aquarium.
E.I.B. was not in my picture because I had written to Emina Hospital to help them with marketing and creativity to grow their numbers and I had taken up an appointment with them.
He admitted that he made a move to the Excellence In Broadcasting (E.I.B.) Group, on the insistent persuasion of the Chief Executive Officer of the Network Kwabena Adisi Anokye well known within media circles as Bola Ray,
He explained, "I have always admired bola for his interview skills and the way he did things. Bola is a brand so when he told me about the EIB project, I thought of it after a while and later took the offer."
Nana Benyin was confident he had not regretted making the move although the brand's rough sails in choppy waters was public knowledge.
He disclosed, "E.I.B. paid me three times what I was receiving at luv. For now it is not about the money. I don't believe in doing things haphazardly or half-heartedly. I want to always finish things and be proud of myself that I was able to finish it successfully."
Nana Benyin has held positions as Northern Sector Events, Brands and Marketing Manager for EIB and presently Programs Manager for Ultimate fm.
He continues to blend his work as a manager with a strong on-air presence hosting the Ultimate Drive and the hilarious Saturday Morning Swing.
He advised up and coming events organisers and radio personalities to learn the Kumasi terrain before making decisions that might work in other jurisdictions but fall flat on its face when superimposed on Oseikrom.
Source: Ghana/Starrfm.com.gh/103.5FM