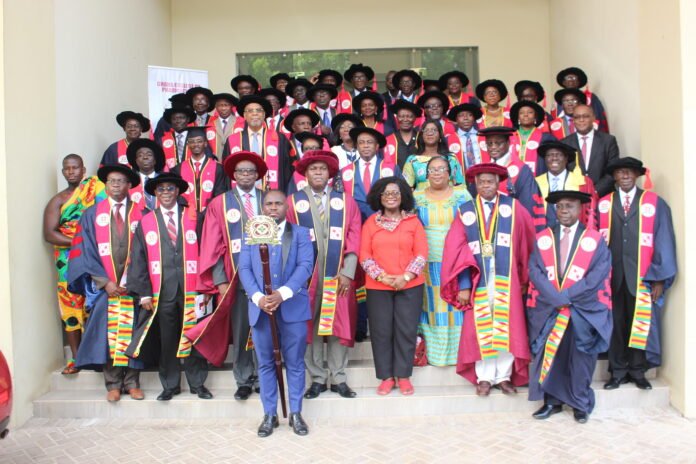 The Ghana College of Pharmacists held its first virtual Membership Graduation ceremony Tuesday, July 28 due to the ban on social gatherings.
The graduands including nineteen clinical Pharmacists, three quality assurance pharmacists and one Drug and Herbal medicine producer swore the oath of secrecy and were formerly admitted as members of the College by the Chairman of the College, Nana Chairman, Odeneho Kwafo Akoto III, Omanhene of Akwamu.
Chairman of the College, Odeneho Kwafo Akoto III, said "as a training institution for specialists in various fields of pharmacy and related disciplines, it is important that graduation ceremonies are held periodically to recognize the achievements of duly qualified candidates. This is one such occasions. This ceremony gives the College the opportunity to discuss with attendees what the graduating pharmacists have had to undergo to get this far."
He went on "it also affords the opportunity to share with these specialist pharmacists the expectations we all have of them, as a College, as recipients of their services, as a nation, and as their family and friends."
"When professionals undergo further training to become specialists, we expect their new acquired knowledge and skills to reflect in the work they do. Recipients of their services expect to see improved service delivery with even better outcomes. Specialization by health care professionals should result in more effective implementation of health policies resulting, overall, in a healthier population."
Vice-President of the College Pharm Joseph Nyoagbe speaking on behalf of the President of the College indicated "to our 2020 Membership class, your graduation today is a testament to the fact that you have worked hard and burnt the candle at both ends; you have withstood the challenges in combining working lives with learning and have sacrificed your energies and times to come this far. Today, the Ghana College of Pharmacists is officially telling you Ayekoo !!!."
He admonished graduands to uphold and promote the ethical standards and virtues of pharmacy as they go out to practice.
"You owe it a duty to add value to the pharmacy practice in terms of your professional deliveries and dispositions. You are therefore to make that difference in the quality of life of patients and clients that come in contact with you during your line of duty. From today, you are going to be recognized and respected, by your peers, mentees, and seniors as pharmacists with enhanced knowledge with advanced critical thinking skills. Strive to live up to those expectations," he added.
Mrs. Martha Gyan Lutterodt who spoke on behalf of the Health Minister congratulated the new members and challenged them to aim higher and also upgrade to various areas to specialize and also have an impact on their societies.
CRITERIA FOR AWARD OF MEMBERSHIP
The Specialist Health Training and Plant Medicine Research Act 2011, (Act 833) mandates the College among others to perform the following functions;
To organize and supervise specialist training, promote continuous professional development and support research in Pharmacy and related disciplines,
Conduct and organize specialist examinations in pharmacy and related disciplines,
Award diplomas and certificates on completion of specialists training and confer professional distinctions.
Source: Ghana/Starrfm.com.gh/103.5FM